Howsam, Charlotte Greyfriars Church, Reading, Berkshire Archaeological Evaluation Report. [Client Report] (Unpublished)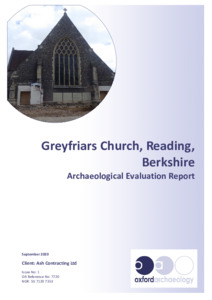 Preview
PDF




REGC20.pdf


Download (4MB) | Preview
Abstract
Oxford Archaeology carried out an archaeological test pit evaluation at the site
of Greyfriars Church, Reading, Berkshire, in August 2020. The fieldwork was
commissioned by Ash Contracting following the demolition of an existing foyer
and in advance of its proposed replacement with a larger glazed foyer at
Greyfriars Church.
Following the demolition of the existing foyer, four hand dug test pits were
excavated across the site. Three test pits were located in the proposed
position of three foundation pads for the new foyer and the fourth was
positioned in the north of the site to the rear of Nos 2 and 4 Sackville Street.
A single large pit containing small quantities of medieval pottery dating to c
1150–1400 and animal bone was revealed in the centre of the site. Together
with an inter-cutting but otherwise undated pit/posthole, this feature
provides limited evidence of medieval activity that may have been related to
the Franciscan friary that once occupied the site. No clear evidence suggestive
of post-medieval activity relating to the Civil War was identified.
Probable construction cuts perhaps associated with former structural
foundations relating to the 20th-century church and a number of
construction/demolition and levelling deposits containing later postmedieval/
modern debris attest to the redevelopment of the site in the 19th
and 20th centuries. The varied levels at which the underlying natural geology
of sand and gravel were encountered within the test pits also demonstrate the
degree of truncation that has occurred on site.
Actions (login required)