Blackbourn, Kathryn (2021) Land to the rear of 68-82 North Street, Stilton, Huntingdonshire. [Client Report] (Unpublished)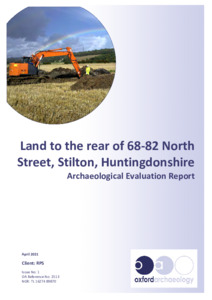 Preview
PDF




OAE_Report_2513_v1_STLNST21_LR.pdf


Available under License Creative Commons Attribution Share Alike.
Download (5MB) | Preview
Abstract
From the 8th to 12th of March 2021 Oxford Archaeology East conducted an evaluation at land to the rear of 68-82 North Street, Stilton, Cambridgeshire(TL 16274 89870). A total of 16 trenches measuring 50m in length were excavated across the site, nine of these trenches were devoid of archaeology. Within the remaining trenches a series of furrows were identified with a north-east to south-west alignment and had been previously identified by a geophysical survey conducted at the site. These furrows appeared to be concentrated in the northern part of the site and although very few finds were recovered from their fills, they most probably date to the medieval to post-medieval period.
A single ditch was uncovered in Trench 12 which had a north to south alignment. A fragment of metal working debris was recovered from its fill and an environmental sample identified a single carbonised grain alongside charcoal. This ditch may represent a field boundary, although its date is uncertain.
The only other feature recorded on site was a modern ditch in Trench 16.
Very few finds were recovered from features and topsoil across the site and included two sherds of Roman pottery, three fragments of ceramic building material, a piece of flint, a piece of metal working debris, a fragment of animal bone and a single fragment of glass.
Item Type:
Client Report
Uncontrolled Keywords:
Evaluation, evaluation, archaeological evaluation, Cambridgeshire, cambridgeshire, Stilton, stilton, Furrow, furrow, Ridge and Furrow, ridge and furrow, Post-Medieval, post-medieval, Post Medieval, post medieval, Medieval, medieval, farming, agriculture, land management, ditch, Ditch, field boundary, Post-Medieval furrow, post-medieval furrow, Post Medieval furrow, post medieval furrow, Medieval furrow, medieval furrow, Roman pottery, roman pottery, pot, ceramic, sherd, vessel, Pottery, pottery, glass, glass shard, jar, 2513, report 2513, Report 2513, OAE report 2513
Subjects:
Geographical Areas > English Counties > Cambridgeshire
Period > UK Periods > Medieval 1066 - 1540 AD
Period > UK Periods > Modern 1901 - present
Period > UK Periods > Post Medieval 1540 - 1901 AD
Divisions:
Oxford Archaeology East
Depositing User:

Hamilton

Date Deposited:
19 Aug 2021 13:08
Last Modified:
19 Aug 2021 13:08
URI:
http://eprints.oxfordarchaeology.com/id/eprint/6107
Actions (login required)