Phelps, Andy and Dunn, Paul (2020) Knowsley Business Park, Draw Well Road, Knowsley, Merseyside. Historic Building Survey Report. [Client Report] (Unpublished)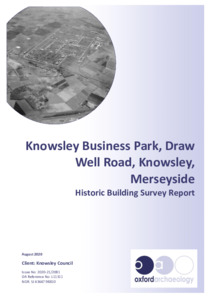 Preview
PDF




L11311_Report_Combined.pdf


Download (14MB) | Preview
Abstract
In May 2020 Oxford Archaeology (OA) North was commissioned by Knowsley Council to complete a Level 3 Historic Building Survey of four former magazine bunkers at Knowsley Business Park, Merseyside (NGR SJ 43647 98810) ahead of their planned demolition and redevelopment (20/00114/DEMCON). The
work was undertaken as a requirement of the demolition consent and was completed over two days, with an initial visit on the 6th of May and a subsequent visit on the 12th of that month, 2020.
The survey concluded that the four buildings form part of a larger group of ten surviving bunkers that once constituted the Group Nine Magazines of Royal Ordnance Factory (ROF) Kirkby No. 7. The magazines were erected sometime between 1939 and 1941, prior to the opening of the factory in September of that year in order to supply ordnance to the British during the Second World War. Their design, form and construction reflect their purpose as storage facilities but also the circumstances of their erection. Their Construction, using inexpensive, durable materials and techniques that were suited to rapid assembly, ensured a low visibility structure capable of withstanding aerial
attack whilst simultaneously protecting against accidental explosions.
Since the closure of ROF Kirkby in 1946 the bunkers have been used for various industrial storage functions, with alterations largely limited to the removal of surrounding banks from some elevations and the insertion of loading doors and fire escapes. Despite their austere character, they remain an interesting example of mid-twentieth century military architectural history and echo the social and political context of the period in which they were erected.
Actions (login required)