Dunn, Paul (2021) Whitaker's Garden Centre, Prescot, Knowsley, Merseyside Archaeological Evaluation Report. [Client Report] (Unpublished)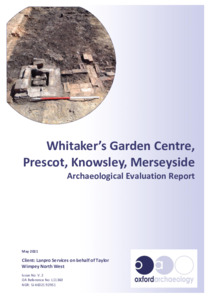 Preview
PDF




L11360_Report_Combined_V2.pdf


Download (7MB) | Preview
Abstract
Archaeological remains were only identified in Trench 1, these remains being structural features likely relating to buildings within the former nursery garden, as depicted on historic mapping. None of the deposits produced dating evidence, although the fabric of the structural remains suggested that they were of Industrial Period date, wall 103 comprised hand-made bricks bonded with lime mortar, whilst the walls of structure 106 comprised handmade and machine-made frogged bricks bonded with a cement-based mortar.
The results of the evaluation are of local significance, in that they were heavily truncated and too little of the nursery gardens survived within the trenches to justify inclusion in a higher grade. The evidence of a possible flue system within structure 106 does potentially contribute to our understanding of technological developments in the propagation and growing of nursery stock from the late eighteenth century through to the twentieth century (North
West Regional Research Framework 2021), however, the remains were heavily truncated, with only the lowest courses of the structure surviving. As such no further work was required by MEAS.
Actions (login required)