Dunn, Paul Stangana Compound, Haweswater Aqueduct Resilience Programme, Mansergh, Cumbria Archaeological Evaluation Report. [Client Report] (Unpublished)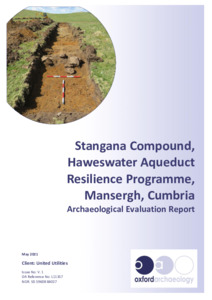 Preview
PDF




L11357_Report_Combined_V2.pdf


Download (7MB) | Preview
Abstract
Archaeological features were present in Trenches 2 and 4. Trenches 1 and 3 contained only natural deposits, with the anomalies identified apparently relating to geological variations. Trench 2 focussed on the circular enclosure
or ring cairn (HER 4284) previously recorded; this was visible as a slight earthwork and showed up on the geophysical survey as a curvilinear feature. Excavation revealed this to be an earth and stone-built embanked feature. At the east end of the trench the bank (which remained unexcavated) survived as an upstanding silty layer containing large stones. At the west end of the trench, the bank appeared to have been truncated and all that remained were large stones within the infill of a shallow ditch. Within the embanked feature were two pits containing cremated material. These were revealed but not
excavated; one contained charcoal, whilst the other contained charcoal and what appeared to be cremated bone. The presence of possible human cremations strongly suggests that the feature was a ring cairn of Bronze Age date. These features were cleaned and photographed in plan then protected by a plastic sheet prior to the trench being backfilled. To the north-east of the ring cairn (HER 4284), Trench 4 was placed over two small circular anomalies
recorded by the geophysical survey, and revealed a pit or tree throw infilled with redeposited natural and a layer of charcoal-rich material.
Actions (login required)