Haskins, Anthony (2021) Land at Weeley, Essex. [Client Report] (Unpublished)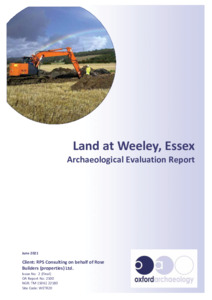 Preview
PDF




OAE_Report 2500_XEXWEE21_LR.pdf


Available under License Creative Commons Attribution Share Alike.
Download (4MB) | Preview
Abstract
Oxford Archaeology undertook a 144 trench evaluation at Weeley, Essex between 11th January and 8th February 2021. Due to poor site conditions, with standing water and heavy snowfall, it was not possible to fully investigate the remains found in all the trenches, but the evaluation was successful in identifying and charactering archaeological remains dating from the Neolithic through to the post-medieval period.
An area of potentially Early Neolithic activity, represented by several small pits, was identified to the north-west of the development area. Further evidence for Late Mesolithic or Neolithic activity included a small quantity of struck and burnt flint recovered from natural deposits on the edge of the first river terrace in Area 6.
In Areas 1, 3, 4 and 5 a small number of ditches and pits associated with small quantities of finds of Iron Age and/or Romano-British date suggest the area was on the edge of settlement, with the ditches potentially representing field systems.
Area 6 contained a large number of post-medieval features, mostly associated with the Napoleonic camp and barracks formed at Weeley in the late 1700s/early 1800s. These included brick footings made from unfrogged hand-made bricks and potential building construction cuts. The possible remains of a camp kitchen were also identified. Several large extraction pits or cess pits were also identified. Finds dating to this period included several military buttons including one from the 11th Light Dragoons. Several gunflints from either 'Brown Bess' muskets or dragoon carbines were also recovered, along with other post-medieval finds including pottery and clay pipe.
Item Type:
Client Report
Uncontrolled Keywords:
Essex, essex, Evaluation, evaluation, archaeological evaluation, Weeley, weeley, Neolithic, neolithic, Early Neolithic, early neolithic, Iron Age, iron age, Roman, roman, Post-Medieval, post-medieval, Post Medieval, post medieval, lithic, lithics, lithic implement, flint, flints, worked flint, burnt flint, Neolithic worked flint, neolithic worked flint, Pottery, pottery, pot, ceramic, sherd, vessel, Iron Age pottery, iron age pottery, Roman pottery, roman pottery, Post-Medieval pottery, post-medieval pottery, Post Medieval pottery, post medieval pottery, neolithic pit, neolithic pits, river, river terrace, Roman field system, roman field system, field system, agriculture, farming, Napoleonic Wars, Napoleonic camp, camp, army camp, 11th Light Dragoons, gunflint, gun flint, CTP, ctp, clay pipe, button, buttons, kitchen, building, structure, cesspit, pit, extractive pit, 2500, report 2500, Report 2500, OAE report 2500
Subjects:
Geographical Areas > English Counties > Essex
Period > UK Periods > Neolithic 4000 - 2200 BC > Early Neolithic 4000 - 3000 BC
Period > UK Periods > Iron Age 800 BC - 43 AD
Period > UK Periods > Neolithic 4000 - 2200 BC
Period > UK Periods > Post Medieval 1540 - 1901 AD
Period > UK Periods > Roman 43 - 410 AD
Divisions:
Oxford Archaeology East
Depositing User:

Hamilton

Date Deposited:
01 Sep 2021 12:25
Last Modified:
01 Sep 2021 12:25
URI:
http://eprints.oxfordarchaeology.com/id/eprint/6117
Actions (login required)