Attfield, Ben Land at Money Hill, Ashby-de-la-Zouch, Leicestershire Archaeological Evaluation Report. [Client Report] (Unpublished)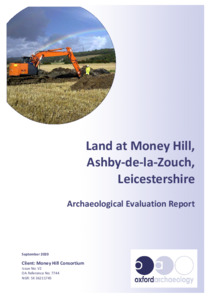 Preview
PDF




X_A55_2020.pdf


Download (7MB) | Preview
Abstract
Oxford Archaeology undertook an archaeological evaluation on the site of the
proposed housing development at Money Hill, Ashby-de-la-Zouch,
Leicestershire, between July and August 2020. The fieldwork was
commissioned by the RPS Group on behalf of the Money Hill Consortium. A
programme of 128 trenches were excavated across eighteen fields,
representing a 2% sample of the development area.
A preceding geophysical survey undertaken in 2013 identified little of
archaeological interest, finding evidence of former agricultural regimes,
predominantly ridge and furrow cultivation, as well as modern services, and
areas of former quarrying. A pit alignment was also previously recorded within
the site from cropmarks and ground-truthed through targeted trenching but
was not discernible within the geophysics data.
Of the 128 trenches that were excavated, only two potential foci of significant
archaeology were identified within the areas of Trenches 97 and 130,
associated with the previously mapped pit alignments identified within the
area. Trench 130 produced three pits and a small assemblage of worked flint,
which aligned with the mapped projection of the two parallel pit alignments.
One of the pits produced fragments of prehistoric pottery and worked flint.
The pits were also found in associated with a subsurface hollow, which
produced a fragment of polished stone axe, a scraper and flake of a similar
date. Trench 97 was not dug due to access constraints, but the previous ULAS
evaluation confirmed the continuation of a third pit alignment that crosses the
proposed development area. The purpose of pit alignments is imperfectly
understood, but they are assumed to demarcate territorial boundaries,
whether functional, social or ritual, possibly delimiting a particular social or
religious group.
Medieval/post-medieval agricultural furrows and modern land drains were
also recorded across the site, demonstrative of a continued agricultural use of
the landscape during this time. A few former field boundaries were also
identified within trenches and corresponded well with changes in the mapped
direction of the ridge and furrow. Some of these former field boundaries
produced a few sherds of abraded Roman pottery and clay pipe.
No evidence of industrial activities previously suggested by the geophysical
survey was recorded within any trenches. Instead, areas of modern truncation
and disturbance, related to open cast coal mining were also identified across
the site, but was especially found to be concentrated in the northwest.
With the exception of the prehistoric pit alignments identified in northeast,
no significant archaeology was found on site. Based on the results of the
evaluation, further mitigation works is likely to be required within these areas,
whilst the remaining areas of the site have no archaeological potential.
Actions (login required)