Haskins, Anthony and Phillips, Tom (2021) Mesolithic to post-medieval activity at Bartlow Road, Linton, Cambridgeshire: PXA and UPD. [Client Report] (Unpublished)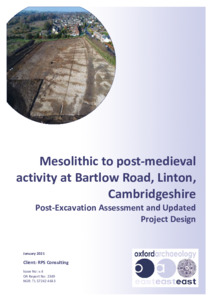 Preview
PDF




OAE_Report 2349_LINBAR18_PXA_v4_LR.pdf


Available under License Creative Commons Attribution Share Alike.
Download (10MB) | Preview
Abstract
Between 22nd October 2018 and 22nd February 2019 Oxford Archaeology East undertook an open area excavation within a parcel of land to the south of Bartlow Road, Linton, Cambridgeshire (TL 57242 46443). The excavation area measured 1.4ha within a total development area of 4.5ha. Area 1 encompassed most of the total area (1.3ha), while Area 2, close to the river in the south of the site, was much smaller (0.1ha).
The principal discovery was several significant flint scatters of Late Mesolithic date recovered from the upper horizons of the river terrace gravels in the southern part of Area 1, with further flintwork of a similar date being recovered from deposits of colluvium on the south-facing slope of Area 1 and also from later features. Within the gravels, the interpretation is that only the base of the Mesolithic land surface had survived, the flintwork having effectively sunk into 'softer patches' of the silty gravels. Despite the truncation of the land surface, exceptionally large assemblages of worked and unworked burnt flint were recovered from the four scatters; overall, the site produced one of the largest Mesolithic assemblages ever recovered from a single phase of excavation in Cambridgeshire. Field walking of the machined level produced c.2,000 struck flints from the surface of the gravels, whilst test pitting produced varying quantities, from less than 10 pieces in some, up to c.800 - 1,000 struck lithics in one test pit.
Neolithic and Early Bronze Age activity was evidenced by a much smaller assemblage of struck flint, including a single leaf-shaped arrowhead and several scrapers and edge-retouched pieces, mostly recovered from the colluvial layers in Area 1. A single pit containing Early Iron Age pottery was located in the east of Area 1, with a small number of further contemporary sherds recovered as residual material in later features.
Whilst there were no definite features of Romano-British date, finds of Roman pottery, ceramic building material and quern stone were recovered, which probably come from surrounding sites. Three Anglo-Saxon sunken-featured buildings were encountered on the south-facing slope of Area 1, with which a small number of pits were thought to be contemporary. Medieval and post medieval activity was represented by ditches and a hollow way running along different contours in Area 1, as well as quarrying in the south of Area 1.
Item Type:
Client Report
Uncontrolled Keywords:
Cambridgeshire, cambridgeshire, Linton, linton, Excavation, excavation, archaeological excavation, PXA, pxa, Post-Excavation Assessment, Post-excavation Assessment, post-excavation assessment, UPD, upd, Updated Project Design, updated project design, Mesolithic, mesolithic, Late Mesolithic, late mesolithic, Neolithic, neolithic, Bronze Age, bronze age, Early Medieval, early medieval, Saxon, saxon, Anglo-Saxon, anglo-saxon, Medieval, medieval, Post-Medieval, post-medieval, Post Medieval, post medieval, flint, worked flint, flints, lithic, lithics, lithic implement, lithic implements, flint scatter, Mesolithic flint scatter, mesolithic flint scatter, Late Mesolithic flint scatter, late mesolithic flint scatter, microliths, Mesolithic microliths, mesolithic microliths, Late Mesolithic microliths, late mesolithic microliths, burnt flint, Neolithic worked flint, neolithic worked flint, Bronze Age worked flint, bronze age worked flint, Mesolithic worked flint, mesolithic worked flint, Late Mesolithic worked flint, late mesolithic worked flint, arrowhead, leaf-shaped arrowhead, scraper, Roman, roman, Late Roman, late roman, Pottery, pottery, pot, ceramic, sherd, vessel, Roman pottery, roman pottery, Late Roman pottery, late roman pottery, Early Medieval pottery, early medieval pottery, Saxon pottery, saxon pottery, Anglo-Saxon pottery, anglo-saxon pottery, Medieval pottery, medieval pottery, Post-Medieval pottery, post-medieval pottery, Post Medieval pottery, post medieval pottery, SFB, sfb, sunken-featured building, Sunken-Featured Building, Grubenhaus, grubenhaus, early medieval sunken-featured building, quarry, quarries, quarry pit, quarry pits, extractive pit, medieval quarry pit, medieval extractive pit, well, medieval well, post-medieval trackway, trackway, track way, hollow way, post-medieval hollow way, ditch, ditches, medieval ditch, medieval ditches, post-medieval ditch, post-medieval ditches, spindlewhorl, spindle whorl, fired clay, fired clay spindlewhorl, fired clay spindle whorl, animal remains, animal bone, bones, bone, faunal remains, worked bone, worked bone comb, comb, early medieval worked bone comb, pin beater, pin-beater, quern, quern fragment, 2349, report 2349, Report 2349, OAE report 2349
Subjects:
Geographical Areas > English Counties > Cambridgeshire
Period > UK Periods > Bronze Age 2500 - 700 BC
Period > UK Periods > Early Medieval 410 - 1066 AD
Period > UK Periods > Mesolithic 10,000 - 4,000 BC > Late Mesolithic 7000 - 4000 BC
Period > UK Periods > Medieval 1066 - 1540 AD
Period > UK Periods > Mesolithic 10,000 - 4,000 BC
Period > UK Periods > Neolithic 4000 - 2200 BC
Period > UK Periods > Post Medieval 1540 - 1901 AD
Period > UK Periods > Roman 43 - 410 AD
Divisions:
Oxford Archaeology East
Depositing User:

Hamilton

Date Deposited:
09 Sep 2021 08:56
Last Modified:
09 Sep 2021 08:56
URI:
http://eprints.oxfordarchaeology.com/id/eprint/6119
Actions (login required)