Graham, Steven and Billington, Lawrence (2021) Late Saxon and Medieval Remains at Rosemary Road, Waterbeach. [Client Report] (Unpublished)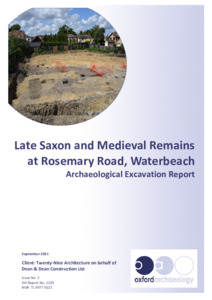 Preview
PDF




OAE Report 2529_WATROR19_LR.pdf


Available under License Creative Commons Attribution Share Alike.
Download (10MB) | Preview
Abstract
Between 22nd June and 8th August 2019, Oxford Archaeology East undertook an excavation on a small (0.13ha) plot of land within the historic core of the village of Waterbeach, Cambridgeshire (TL 4977 6522). The excavation was preceded by trial trenching which had demonstrated the presence of features relating to Late Saxon and medieval activity.
Evidence for prehistoric activity was limited to a single pit associated with a substantial quantity of unworked burnt flint and a single residual flint flake. Romano-British features were also scarce but included a probable ditched trackway and the remains of other possible boundary ditches, alongside a small number of pits. These were associated with small quantities of pottery and a single coin dated to the mid-4th century AD. Multiple Romano-British settlements/farmsteads are known from the parish and these features probably represent part of the intensively exploited agricultural landscape of the lower Cam Valley.
Although there was some evidence for Middle Saxon activity in the form of a very small quantity of residual pottery, the main phases of the site's occupation dated to the Late Saxon period through to the early 14th century AD, represented by a complex sequence of intercutting boundary and enclosure ditches accompanied by discrete features and a long-lived watering hole. These features are likely to represent 'back-plot' activity associated with domestic settlement, probably relating to properties fronting onto routeways corresponding to the historic/modern street pattern in this part of the village, immediate to the north of the parish church and Waterbeach Abbey.
Seven phases of Late Saxon to medieval activity were defined on stratigraphic grounds, the earlier of which were exclusively associated with Late Saxon and early medieval pottery, with later phases producing a more diverse range of early and high medieval wares. Associated finds assemblages were only of modest size, but notable finds included several worked bone/antler artefacts and a 12th century silver half penny. Animal bone and charred grain assemblages provide evidence for agricultural regimes typical of these periods in the region, but a small assemblage of fish bone, dominated by eel, hints at the importance of wetland resources for communities in this fen-edge parish.
There was major decline in activity at the site from the early/mid-14th century AD onwards, potentially linked to depopulation and social upheaval caused by famine and outbreaks of the Black Death. Evidence for later activity was restricted to post-medieval and modern boundary ditches and several cattle burials.
Although relatively small-scale, the Late Saxon and medieval features have produced locally significant finds assemblages, including valuable evidence for the exploitation of fenland resources. The excavation also represents one of the only substantive archaeological investigations within the historic core of Waterbeach to date and is of significance in terms of understanding the origins, development, and character of settlement in the village over this period.
Item Type:
Client Report
Uncontrolled Keywords:
Cambridgeshire, cambridgeshire, Waterbeach, waterbeach, Excavation, excavation, archaeological excavation, Roman, roman, Early medieval, early medieval, Medieval, medieval, trackway, Roman trackway, roman trackway, Pottery, pottery, pot, ceramic, sherd, vessel, Roman pottery, roman pottery, Early medieval pottery, early medieval pottery, Medieval pottery, medieval pottery, Middle Saxon, middle saxon, Late Saxon, late saxon, Middle Saxon pottery, middle saxon pottery, Late Saxon pottery, late saxon pottery, domestic activity, back plot, watering hole, boundary, boundaries, boundary ditch, enclosure, enclosures, enclosure ditch, ecofact, ecofacts, animal bone, animal bones, animal remains, bone, bones, fish bones, eel, wetland, wetland resource, worked bone, coin, 2529, report 2529, Report 2529, OAE report 2529
Subjects:
Geographical Areas > English Counties > Cambridgeshire
Period > UK Periods > Early Medieval 410 - 1066 AD
Period > UK Periods > Medieval 1066 - 1540 AD
Period > UK Periods > Roman 43 - 410 AD
Divisions:
Oxford Archaeology East
Depositing User:

Hamilton

Date Deposited:
27 Sep 2021 11:45
Last Modified:
20 Oct 2021 07:27
URI:
http://eprints.oxfordarchaeology.com/id/eprint/6125
Actions (login required)