Booth, Rona (2020) Lot 1, Avenue Farm, Padgetts Lane, Fenton. [Client Report] (Unpublished)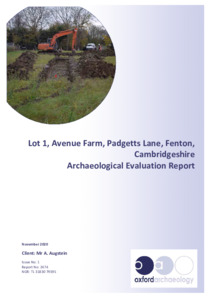 Preview
PDF




PIDPAD20_OAE_Report 2474_LR.pdf


Available under License Creative Commons Attribution Share Alike.
Download (4MB) | Preview
Abstract
On 16th November 2020 Oxford Archaeology East undertook a trial trench evaluation on Lot 1, Avenue Farm, Padgetts Lane, Fenton, Cambridgeshire (TL 31830 79595). The work was carried out as a planning condition in advance of a residential development.
A total of three trial trenches totalling 50m in length were excavated. Two of the trenches (Trenches 1 and 2) placed in the north-western and central parts of the site contained no archaeological features. Trench 3, placed in the south-eastern part of the site, contained a substantial deposit of modern demolition material and a septic tank.
All three trenches revealed a layer of demolition rubble associated with the removal of a building that was once located in the south-eastern part of the site. This rubble was evidently spread across the field, probably to level the ground which sloped slightly from west to east.
The results of the evaluation demonstrate a lack of activity prior to occupation of the site during the modern period, during which time it was used to grow sugar beet and then turned over to pasture.
Item Type:
Client Report
Uncontrolled Keywords:
Cambridgeshire, cambridgeshire, Pidley-cum-Fenton, pidley-cum-fenton, Fenton, fenton, Evaluation, evaluation, archaeological evaluation, Modern, modern, septic tank, demolition rubble, 2474, report 2474, Report 2474, OAE report 2474
Subjects:
Geographical Areas > English Counties > Cambridgeshire
Period > UK Periods > Modern 1901 - present
Divisions:
Oxford Archaeology East
Depositing User:

Hamilton

Date Deposited:
27 Sep 2021 12:19
Last Modified:
27 Sep 2021 12:19
URI:
http://eprints.oxfordarchaeology.com/id/eprint/6127
Actions (login required)