Cox, Nicholas (2017) The Corner of Ermine Street and St Peter's Road, Huntingdon. [Client Report] (Unpublished)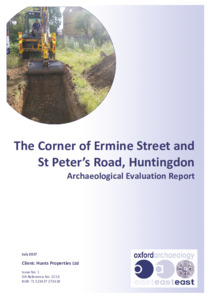 Preview
PDF




OAE Report 2116_HUNPET17_LR.pdf


Available under License Creative Commons Attribution Share Alike.
Download (5MB) | Preview
Abstract
On the 17th of July 2017 Oxford Archaeology East (OAE) carried out an archaeological evaluation on land on the corner of Ermine Street and St Peter's Road, Huntingdon.
A total of two trial trenches, one 10m long and the other 5m long were excavated.
Both trenches found a potential buried late to post-medieval soil layer which contained late medieval pottery, clay pipe and animal bone fragments. No archaeological features were present in the trenches.
Above the soil the only remains were from the construction and subsequent demolition of a 20th century garage.
Item Type:
Client Report
Uncontrolled Keywords:
Cambridgeshire, cambridgeshire, Huntingdon, huntingdon, Evaluation, evaluation, archaeological evaulation, Post-Medieval, post-medieval, Post Medieval, post medieval, buried soil, buried soil horizon, pot, Pottery, pottery, ceramic, sherd, vessel, Post-Medieval pottery, post-medieval pottery, Post Medieval pottery, post medieval pottery, Post-Medieval buried soil, post-medieval buried soil, Post Medieval buried soil, post medieval buried soil, CBM, cbm, Ceramic Building Material, ceramic building material, CTP, ctp, clay tobacco pipe, Clay Tobacco Pipe, clay pipe, modern garage, 2116, report 2116, Report 2116, OAE report 2116
Subjects:
Geographical Areas > English Counties > Cambridgeshire
Period > UK Periods > Modern 1901 - present
Period > UK Periods > Post Medieval 1540 - 1901 AD
Divisions:
Oxford Archaeology East
Depositing User:

Hamilton

Date Deposited:
04 Oct 2021 06:29
Last Modified:
04 Oct 2021 06:29
URI:
http://eprints.oxfordarchaeology.com/id/eprint/6132
Actions (login required)