Billington, Lawrence and Broderick, Lee and Cook, Sharon and Donnelly, Mike and Perrin, Rob and Poole, Cynthia and Scott, Ian and Shaffrey, Ruth and Browne, David and Wachnik, Magdalena Hinckley Road, Sapcote, Leicestershire Archaeological Excavation Report. [Client Report] (Unpublished)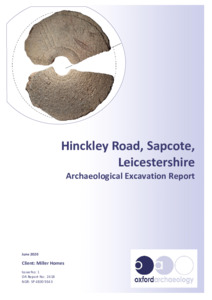 Preview
PDF




X_A7_2019.pdf


Download (13MB) | Preview
Abstract
Between January and June of 2019 Oxford Archaeology carried out
archaeological excavations to the south of Hinckley Road in Sapcote,
Leicestershire (SP 4830 9343). Three separate excavation areas were
investigated, covering a total of 1.7ha.
Evidence for prehistoric activity was restricted to a small quantity of residual
flintwork and a single pit associated with Late Bronze Age/Early Iron Age
pottery. Most of the features revealed by the excavations related to Romano-
British activity, with a set of conjoined rectangular enclosures representing a
long-lived, relatively low-status Romano-British farmstead. Although no
structural remains were found, a small ditched enclosure may have
represented a building compound, and the enclosures were associated with a
number of discrete pits, including a large well. The finds assemblages from the
enclosure ditches and associated features were relatively modest but included
over 300 sherds of Roman pottery dating from the mid-1st century to 4th
century AD. The fills of several pits within and around the enclosures produced
evidence for crop processing and metalworking (smithing), as well as
assemblages of fired clay and reused ceramic building material probably
representing the remains of ovens. The most notable individual find was a
large fragment of quern stone bearing unusual grooved decoration, recovered
from one of the enclosure ditches. Activity at the site seems to have ended in
the 4th century, and later activity is represented by a single pit associated with
a small quantity of Anglo-Saxon pottery and the remains of extensive medieval
to post-medieval ridge and furrow.
The Roman activity recorded at Hinckley Road represents an important
addition to the corpus of excavated Roman rural settlements in this part of
Leicestershire and is also significant in terms of its proximity to a major, but
poorly understood, villa complex located a little over 1km to the east at Calver
Hill.
Actions (login required)