Booth, Rona (2021) Land off Clunch Pit Lane, Reach, Cambridgeshire. [Client Report] (Unpublished)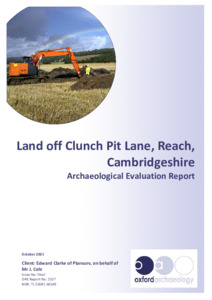 Preview
PDF




OAE Report 2527_REACPL21_LoR.pdf


Available under License Creative Commons Attribution Share Alike.
Download (6MB) | Preview
Abstract
On the 24th and 25th of June 2021 Oxford Archaeology East undertook a trial trench evaluation at land off Clunch Pit Lane, Reach, Cambridgeshire. The work was carried out in advance of a proposed residential development for the client, Mr J. Cole.
A total of three trial trenches with a combined length of 72m were excavated during the evaluation. Trench 2 was blank and contained no archaeological features. Trench 4 contained a boundary ditch. Two more substantial boundary ditches and an associated hedge line were revealed in Trench 3. All of these features were potentially of medieval or post-medieval date. Trench 1 was not opened due to the presence of livestock.
The results of the evaluation indicate that a succession of boundaries was established along the north-eastern limit of the site from the medieval period onwards which lie on the same alignment as the modern trackway of Little Back Lane.
Item Type:
Client Report
Uncontrolled Keywords:
Cambridgeshire, cambridgeshire, Reach, reach, Evaluation, evaluation, archaeological evaluation, Medieval, medieval, Post-Medieval, post-medieval, Post Medieval, post medieval, Pottery, pottery, pot, ceramic, sherd, vessel, Medieval pottery, medieval pottery, ditch, ditches, boundary, boundaries, boundary ditch, medieval boundary ditch, post-medieval boundary ditch, hedge, hedge line, 2527, report 2527, Report 2527, OAE report 2527
Subjects:
Geographical Areas > English Counties > Cambridgeshire
Period > UK Periods > Medieval 1066 - 1540 AD
Period > UK Periods > Post Medieval 1540 - 1901 AD
Divisions:
Oxford Archaeology East
Depositing User:

Hamilton

Date Deposited:
25 Oct 2021 11:20
Last Modified:
25 Oct 2021 11:20
URI:
http://eprints.oxfordarchaeology.com/id/eprint/6140
Actions (login required)