Clarke, Graeme and Haskins, Anthony (2021) Early Medieval Charcoal Pits and Early Post-medieval Brick Kilns at Nayland Road, Great Horkesley, Essex. [Client Report] (Unpublished)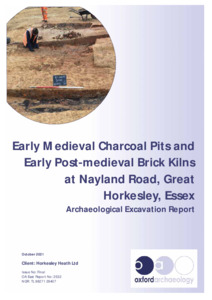 Preview
PDF




OAE_Report_2532_XEXGRH20_Final_LR.pdf


Available under License Creative Commons Attribution Share Alike.
Download (5MB) | Preview
Abstract
Between the 15th March and 29th April 2021, Oxford Archaeology East (OA East) undertook an archaeological excavation at Nayland Road, Great Horkesley, Essex. In total, c.2ha was investigated by three areas of excavation (Areas 1-3) within a 9.5ha development area surrounding Horkesley Manor.
The locations of the excavation areas were based on the results of previous stages of geophysical survey and trial trenching work conducted across the development area between June and July 2019. The evaluation confirmed the presence of in situ brick kilns shown on the geophysical survey as areas of burning along the base of the slope in the eastern part of the site, west of Black Brook. Elements of a network of 19th century field boundaries and smaller plot divisions were also revealed along with a recent garden feature-type brick structure probably associated with the manor house, which was constructed at the end of the 19th century. The remains of undated charcoal-rich pits were also scattered across the site.
The excavation areas revealed more charcoal-rich pits amongst other discrete features determined to be natural tree throws. These pits are interpreted as the truncated remains of pit kilns excavated for the production of charcoal in Cestrewald. This was an ancient woodland which stretched across Horkesley during the early medieval period before it was transformed into heathland through deforestation, probably in part by repeated charcoal making campaigns. Oak charcoal from three pits was radiocarbon dated to the 12th-13th century AD.
Two heavily truncated intercutting Suffolk-type brick kilns were also revealed in Area 3, brick samples from which indicate an early post-medieval date. This was confirmed by the results of two radiocarbon assays, both centred on the 16th century. An almost entirely truncated kiln of wholly different design was excavated in Area 2 which was similar in form to a 17th century tile kiln excavated at nearby Stanway. This kiln was also radiocarbon dated to the 16th century. Inspection of historical maps dating back to 1777 demonstrated that the development site lay in an area heavily involved in brick (and possibly tile) production, and the associated extraction of clay, from the 15th to 19th centuries.
These two episodes of industrial activity are significant additions to the archaeological record of Great Horkesley and contribute to wider discussions into early medieval charcoal-making techniques and the early history of brick and tile making in the parish.
Item Type:
Client Report
Uncontrolled Keywords:
Excavation, excavation, archaeological excavation, Essex, essex, Great Horkesley, great horkesley, Horkesley Manor, horkesley manor, Medieval, medieval, Post-Medieval, post-medieval, Post Medieval, post medieval, kiln, kilns, pit kiln, charcoal, charcoal making, medieval pit, kiln, medieval charcoal making, Cestrewald, woodland, ancient woodland, deforestation, tree throw, tree throws, brick kiln, brick kilns, Suffolk-type brick kiln, brick, tile, CBM, cbm, Ceramic Building Material, ceramic building material, tile kiln, post-medieval tile kiln, post-medieval brick kiln, Pottery, pottery, pot, ceramic, sherd, vessel, Rmaon pottery, roman pottery, Medieval pottery, medieval pottery, Post-Medieval pottery, post-medieval pottery, Post Medieval pottery, post medieval pottery, Modern pottery, modern pottery, 2532, report 2532, Report 2532, OAE report 2532
Subjects:
Geographical Areas > English Counties > Essex
Period > UK Periods > Medieval 1066 - 1540 AD
Period > UK Periods > Post Medieval 1540 - 1901 AD
Divisions:
Oxford Archaeology East
Depositing User:

Hamilton

Date Deposited:
25 Oct 2021 11:49
Last Modified:
25 Oct 2021 11:49
URI:
http://eprints.oxfordarchaeology.com/id/eprint/6141
Actions (login required)