Francisco Benet, Yerai (2021) Glenvale Park, Wellingborough, Northamptonshire. [Client Report] (Unpublished)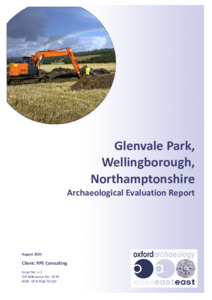 Preview
PDF




OAE_Report_2534_v1_XNNGVP21_LR.pdf


Available under License Creative Commons Attribution Share Alike.
Download (6MB) | Preview
Abstract
Between the 14th June and the 5th July 2021, Oxford Archaeology East (OA East) conducted a programme of archaeological evaluation at Glenvale Park, Wellingborough, Northamptonshire (SP 87466 70150). A total of 32 x 50m long trenches and one 20m long trench were excavated within a proposed development area of agricultural farmland to the north of the town.
The evaluation confirmed the presence of Romano‐British ditches in the north of the field, probably part of a rural settlement. The layout of the ditches correlated with features identified in an earlier geophysical survey, forming part of a rectilinear field system. Finds associated with the ditches included pottery (232 sherds, 3010g), dating primarily to the later Roman period, with a suggested peak between AD150‐400. Metalwork, worked flint, fired clay and burnt stone were also recovered. Animal bone was dominated by cattle, followed by sheep/goat, dog and bird, with a few instances of pig and horse bone. Charred grain (barley and spelt/emmer wheat), chaff, weed seeds and charcoal were recovered from bulk soil samples and indicate that there is good potential for the preservation of plant remains at the site.
A later layer of colluvium located in the east of the western field, and following the natural topography of the site, suggests an absence of activity after the Roman period.
Item Type:
Client Report
Uncontrolled Keywords:
Northamptonshire, northamptonshire, Wellingborough, wellingborough, Great Harrowden, great harrowden, Evaluation, evaluation, archaeological evaluation, Roman, roman, Pottery, pottery, pot, ceramic, sherd, vessel, Roman pottery, roman pottery, ditch, ditches, Roman ditch, Roman field system, field system, animal remains, animal bone, animal bones, bone, bones, nail, Ecofact, ecofact, report 2534, Report 2534, OAE report 2534
Subjects:
Geographical Areas > English Counties > Northamptonshire
Period > UK Periods > Roman 43 - 410 AD
Divisions:
Oxford Archaeology East
Depositing User:

Hamilton

Date Deposited:
10 Nov 2021 12:07
Last Modified:
10 Nov 2021 12:07
URI:
http://eprints.oxfordarchaeology.com/id/eprint/6147
Actions (login required)