Laws, Granville (2007) Hall's Croft, Garden and Attic, Stratford-upon-Avon, Warwickshire. [Client Report] (Unpublished)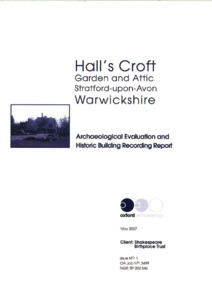 Preview
PDF




SBT2006.47_&_48_pdfA.pdf


Download (5MB) | Preview
Abstract
In January and February 2007 Oxford Archaeology (OA) carried out an archaeological field evaluation and building survey at Hall's Croft garden and attic in Stratford-upon-Avon, Warwickshire (NGR SP 202 546) on behalf of the Shakespeare Birthplace Trust.
The test pit evaluation within the garden revealed a medieval pit or garden planting feature, a build up of garden soils containing materials dating from 13th/14th to the 19th centuries and evidence of levelling and landscaping. One test pit contained quantities of medieval roof tile suggesting the presence of a building(s) in the vicinty, possibly to the north-east of the site. Overall, the concentration of archaeology in the garden appears low - based on the (admittedly small) sample of the garden that was excavated, it is possible that the area was not built up either in the medieval or later period.
The building survey within the attic examined a tool fixed to a roof timber. The device was interpreted as a grinding machine although it is not clear what was processed through the machine. It was not located in its original position and dating remains uncertain. An examination beneath the present floorboards revealed an earlier floor surface but one which had not been part of the original early 17th century phase of the building. Environmental samples were taken of deposits beneath the floorboards. Analysis of these has revealed evidence of storage and preparation of vegetables and fruit for consumption possibly dating to the Victorian period but which could have accumulated over a longer period of time.
Actions (login required)