Hughes, Vix Land West of Reading Road, Winterbrook, Wallingford, Oxfordshire. [Client Report] (Unpublished)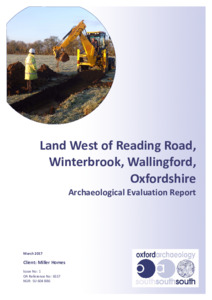 Preview
PDF




WARR16.pdf


Download (8MB) | Preview
Abstract
In January 2017 Oxford Archaeology (OA) was commissioned by CgMs
Consulting Limited on behalf of Miller Homes to undertake an archaeological
evaluation of land to the West of Reading Road, Winterbrook, Wallingford,
Oxford. The site is a proposed new housing development, centred on NGR SU
604 886 and lying at c. 46m OD.
The works involved the excavation of 14 trenches 30m in length, and were
designed to supplement a previous evaluation carried out by Wessex
Archaeology in 2009 (Trenches 1-8). The 2017 trenches (numbered 9-22) aimed
to better define and characterize a phase of Iron Age activity identified at the
site.
The results of the evaluation helped to further confirm and define the presence
of a middle Iron Age settlement in the northern part of the site. Ditches in
Trenches 10, 13 and 15 were confirmed by the presence of artefacts as being of
Iron Age date. The features were all ditches and appear to form part of the
enclosed middle Iron Age settlement.
A medieval pit, 1006, and probable linear feature, 1009, was also discovered in
Trench 10. Both these features date to the 11-12th centuries and indicate early
medieval activity within the site. Wallingford and the surrounding areas have
known Anglo-Saxon settlement occupation of some significance, as
demonstrated by the defensive features and cemetery within Wallingford itself.
Actions (login required)