Gorniak, Mariusz Bicester Heritage New Technical Site Bicester Oxfordshire. [Client Report] (Unpublished)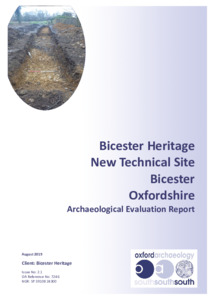 Preview
PDF




LABH18.pdf


Download (7MB) | Preview
Abstract
Between 9th and 14th January 2019, Oxford Archaeology carried out an
archaeological evaluation on behalf of Bicester Heritage on the site of a
proposed New Technical Site, Bicester Heritage, Oxfordshire. Seven evaluation
trenches were excavated within the historic Bicester Aerodrome (now known
as Bicester Heritage and formerly RAF Bicester). The site covers c 2.45 Ha and
lies in the south-west corner of the aerodrome at the junction of
Skimmingdish Lane and the A4421 Buckingham Road. The latter road follows
the line of the Roman Road from Alchester to Towcester.
The site was first developed in the latter stages of WW1 as a Royal Flying Corps
(RFC) Training Depot Station. By the end the war, in 1918, facilities within the
site boundary comprised a series of workshops. The site was redeveloped in
1920 and for a short time returned to agricultural use. From 1925 the site was
redeveloped as part of the RAF Bicester bomber station.
The evaluation did not reveal any significant archaeological features predating
the WW1 phase of construction. Parts of the site were either truncated
to the level of the natural geology or a thick leveling layer of clayey silt was
placed above the original topsoil. These groundworks may be connected with
a re-alignment of Skimmingdish Lane, which until the latter part of the 20th
century ran from east to west across the site.
Traces of activity relating to the RAF station were identified in six trenches,
mostly comprising electrical and other utility trenches, hardcore/surface
layers, one concrete floor, and remains of two foundation walls. The
foundation walls roughly match the position of buildings shown on the 1996
OS Map, which were subsequently demolished. The buildings were probably
constructed during the 1925 phase of development of the northern part of
the site. The features had been heavily disturbed by post-war development.
The most recent phases of activity were evidenced by a metal scrapyard
rubbish layer in one trench in the southern part of the site, as well as tarmac
car park and yard surfaces.
Actions (login required)