Kennard, Elizabeth St Edmund Hall, Old Dining Hall Ramp, Oxford. [Client Report] (Unpublished)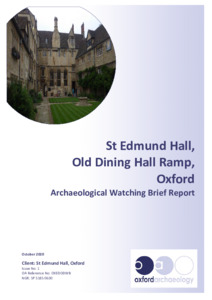 Preview
PDF




OXEDOD20.pdf


Download (3MB) | Preview
Abstract
Oxford Archaeology (OA) was commissioned by Original Field of Architecture
on behalf of St Edmund Hall, Oxford to undertake an archaeological watching
brief during the construction of a new disabled access ramp for the 17th
century Grade I listed Old Dining Hall on the west side of Front Quad at St
Edmund Hall, Queen's Lane, Oxford. The site is centered on NGR SP 5185 0630.
A single trench measuring 10.50m (N‐S) by 2.30m (E‐W) was machine
excavated to between 0.45m and 0.60m below existing ground level (bgl)
(60.27maOD) and was located adjacent to the eastern wall of the Old Dining
Hall within the Front Quad. Archaeology was encountered from 0.14m below
ground level, downwards to the limit of excavation (max. 0.65m bgl) at
60.27maOD; further archaeological deposits undoubtedly lie below this level.
The earliest deposit encountered within the trench was an undated garden
soil, a possible limestone surface and a garden soil dating from the late
medieval to early post‐medieval period. These deposits probably predate the
construction of the existing college West Range and indicate survival of late
medieval‐early post‐medieval archaeological sequences at the site.
The limestone foundations for the Old Dining Hall were partially revealed. The
joint between foundation and wall probably indicates the level of construction
for the existing West Range, and although no construction cut was visible, this
horizon appears to separate the pre mid‐17th century archaeological
sequence (including late medieval deposits) from the post mid‐17th century
deposits.
Actions (login required)