Attfield, Ben and Ford, Ben 51a St Giles, Oxford Archaeological Evaluation Report. [Client Report] (Unpublished)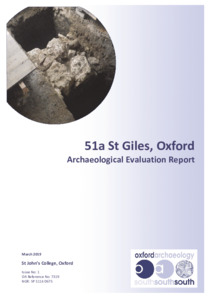 Preview
PDF




OXSJSG19.pdf


Download (4MB) | Preview
Abstract
In February 2019, Oxford Archaeology were commissioned by Savills on behalf
of St John's College, Oxford to undertake a trial trench evaluation within a
groundfloor room at 51a St Giles, Oxford. An area was cleared of floorboards
and joists, and a thin layer of soil was removed, within which a smaller 2m by
1m trench was excavated. In situ deposits and structural remains dating to the
Late Medieval ‐ Early Post Medieval were encountered at an uppermost height
of 63.25m OD, which was 0.22m below the existing internal floor levels. Hand
auger holes reached truncated natural gravel at 62.22mOD, no indication of
an overlying in‐situ loess was observed. A large north‐south orientated
limestone wall foundation was revealed, abutted by a smaller limestone wall
foundation running to the east. A dark greyish‐brown homogenous humic‐rich
deposit to the west of the wall (outside) probably represented mixed garden
soils, whereas inside the structure less humic reddish‐brown deposits indicated
possible ground raising. No floor levels were associated with the structural
remains. The internal and external deposits dated to the 16th century, with
deposits overly the demolition of the structures dating to the 17‐18th century,
contemporary with the suggested construction dates for the current extant
buildings at the site. Residual abraded sherds of medieval pottery, present in
most of the deposits, attested to earlier activity at the site.
The height at which structural remains survived under the floor in the existing
buildings (63.25 – 63.07mOD) is somewhat lower than the highest levels
recorded in the garden by a previous evaluation, at 63.32 – 63.60mOD (TVAS,
2017). It is noticeable that the garden levels are higher than the level of the
outside path (adjacent to the building) as well as the floors within the building,
and suggests that the area of the path and extant building footprint were
reduced and levelled, perhaps from those still present in the garden during
construction. Therefore, there is potential for better archaeological
preservation in the higher parts of the garden.
Actions (login required)