Collie, Tom (2021) Highwood Quarry, Little Easton, Essex. [Client Report] (Unpublished)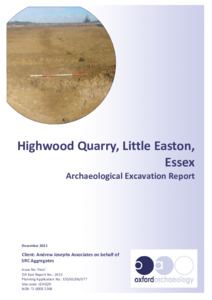 Preview
PDF




OAE_Report_2455_XEXLEQ20_Final_LR.pdf


Available under License Creative Commons Attribution Share Alike.
Download (5MB) | Preview
Abstract
Between the 31st August and 25th September 2020, OA East conducted an archaeological evaluation of land at Highwood Quarry, Little Easton, Essex. This was remediation work to inform the Planning Authority, ECCPS, on the archaeological character of the land at the quarry which was marked for mineral extraction.
A small sub-rectangular area was excavated revealing two phases of Iron Age archaeological remains. The first phase uncovered two Iron Age roundhouse ring gullies, which respected the alignment of a co-axial ditch system. These were surrounded by outlying pits. The second archaeological phase was represented by two overlying and parallel running northwest/southeast linear features. One small modern pit was located at the eastern side of the excavation area. Pottery recovered from Phase 1 was exclusively dated to the Middle Iron Age period with Phase 2 pottery dated to between the Late Iron Age and Early Romano-British period.
The site is a significant addition to the groups of previously investigated Iron Age settlement remains excavated at Highwood Quarry and to the west of Great Dunmow which demonstrate the presence of shifting foci of domestic activity across this period within this locality.
Item Type:
Client Report
Uncontrolled Keywords:
Essex, essex, Excavation, excavation, archaeological excavation, Iron Age, iron age, Middle Iron Age, middle iron age, Late Iron Age, late iron age, Pottery, pottery, pot, ceramic, sherd, vessel, Iron Age pottery, iron age pottery, Middle Iron Age pottery, middle iron age pottery, Late Iron Age pottery, late iron age pottery, Roundhouse, Round House, roundhouse, round house, Iron Age roundhouse, iron age roundhouse, drip gully, animal remains, animal bone, animal bones, bone, bones, fired clay, ditch, ditches, ditch system, co-axial, co-axial ditch system, Iron Age field system, linear features, land use, Iron Age land use, iron age land use, 2455, report 2455, Report 2455, OAE report 2455
Subjects:
Geographical Areas > English Counties > Essex
Period > UK Periods > Iron Age 800 BC - 43 AD
Period > UK Periods > Iron Age 800 BC - 43 AD > Late Iron Age 100 BC - 43 AD
Period > UK Periods > Iron Age 800 BC - 43 AD > Middle Iron Age 400 - 100 BC
Divisions:
Oxford Archaeology East
Depositing User:

Hamilton

Date Deposited:
07 Dec 2021 12:44
Last Modified:
07 Dec 2021 12:44
URI:
http://eprints.oxfordarchaeology.com/id/eprint/6167
Actions (login required)