Phillips, Tom and Thatcher, Chris (2020) A Late Iron Age to Romano‐British farmstead at Gidding Road, Sawtry, Cambridgeshire: Post‐Excavation Assessment and Updated Project Design. [Client Report] (Unpublished)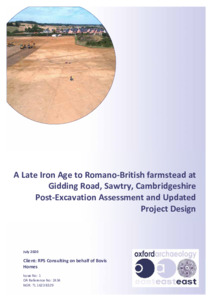 Preview
PDF




OAE_Report2434_SWTGIR19PXA_LR.pdf


Available under License Creative Commons Attribution Share Alike.
Download (8MB) | Preview
Abstract
Between July and December 2019 Oxford Archaeology East (OA East) carried out an open‐area excavation on 4.6ha of land south of Gidding Road, Sawtry, Cambridgeshire (TL 1623 8329), in advance of residential development. The excavation was commissioned by RPS Consulting on behalf of Bovis Homes and followed on from preliminary works including geophysical survey, a Desk‐Based Assessment and evaluation trenching.
The principal phases of activity occurred during the Late Iron Age and the Romano‐British period, when part of a farmstead developed on either side of a north‐east to south‐west orientated winterbourne. During the Late Iron Age
(Phase 1), in the south of the site, a group of three roundhouses and a small enclosure were constructed along the line of a sinuous boundary ditch. Dating evidence from Late Iron Age features was rare, with later Iron Age pottery
totalling 20 sherds (225g).
Romano‐British activity was mainly concentrated in the north of the site, in contrast to the Late Iron Age features. This activity began in the mid‐late 1st century AD with the setting out of a rectilinear field system and associated trackway in the area directly north of the winterbourne (Phase 2). During the 2nd century AD (Phase 3) the rectilinear field system developed along similar lines to the 1st century. However, it did appear to expand further northwards, towards and probably beyond Gidding Road, forming part of the settlement uncovered at Glebe Farm to the north. Discrete pits and waterholes were more numerous in Phase 3 and whilst no significant buildings were encountered, there was one linear arrangement of four post holes that may have been structural. The pottery evidence demonstrates that activity at the site peaked in the 1st and 2nd centuries, with 97% of the whole assemblage(4913 sherds, 55331g) dating to Phases 2‐3. After the late 2nd century AD, the level of activity significantly declined; features that were clearly dated between the later 2nd‐4th century AD were restricted to a midden deposit and a large pit or waterhole along the northern edge of excavation.
Limited land‐use continued into the Early Anglo‐Saxon period, evidenced by a small assemblage of pottery (24 sherds, 537g) in earlier features. Ridge and furrow agriculture was evident at the site during the post‐medieval period.
Item Type:
Client Report
Uncontrolled Keywords:
Cambridgeshire, cambridgeshire, Sawtry, sawtry, Excavation, excavation, archaeological excavation, PXA, pxa, Post-Excavation Assessment, Post-excavation Assessment, post-excavation assessment, UPD, upd, Updated Project Design, updated project design, Iron Age, iron age, Late Iron Age, Roman, roman, Early Medieval, early medieval, Pottery, pottery, pot, ceramic, sherd, vessel, Iron Age pottery, iron age pottery, Late Iron Age pottery, Roman pottery, roman pottery, Early Medieval pottery, early medieval pottery, trackway, watering hole, agriculture, Roman agriculture, Late Iron Age agriculture, pollen analysis, ecofacts, animal remains, animal bone, animal bones, bones, bone, human remains, human bone, HSR, hsr, Roman burial, burial, inhumation, cremation, Roman cremation burial, Roman inhumation burial, round house, roundhouse, Iron Age round house, Roman trackway, field system, Roman field system, 2434, report 2434, Report 2434, OAE report 2434
Subjects:
Geographical Areas > English Counties > Cambridgeshire
Period > UK Periods > Early Medieval 410 - 1066 AD
Period > UK Periods > Iron Age 800 BC - 43 AD
Period > UK Periods > Iron Age 800 BC - 43 AD > Late Iron Age 100 BC - 43 AD
Period > UK Periods > Post Medieval 1540 - 1901 AD
Period > UK Periods > Roman 43 - 410 AD
Divisions:
Oxford Archaeology East
Depositing User:

Hamilton

Date Deposited:
14 Dec 2021 14:27
Last Modified:
14 Dec 2021 14:27
URI:
http://eprints.oxfordarchaeology.com/id/eprint/6174
Actions (login required)