Mason, Neal (2021) Neolithic, medieval and post-medieval remains at Eight Ash Green, Colchester. [Client Report] (Unpublished)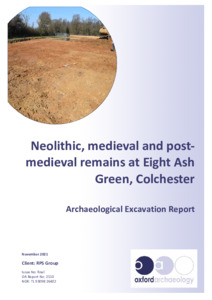 Preview
PDF




OAE_Report 2510_XEXEAG20EX_LR.pdf


Available under License Creative Commons Attribution Share Alike.
Download (9MB) | Preview
Abstract
Between the 1st and the 18th of March 2021 Oxford Archaeology East (OA East) carried out an excavation at land north of Halstead Road, Eight Ash Green, Essex. An open area excavation of approximately 0.85ha targeted prehistoric and medieval – post-medieval features first revealed during an evaluation carried out in November 2020.
The south-western corner of the site contained a group of 14 small, sub-circular pits/post holes, one of which contained pottery dated tentatively to the Late Neolithic period. No obvious structure was formed by these features, although it is possible that some of them may have formed a fence line or wind break. They were probably the result of a low-level, transient presence at the site during the Late Neolithic period.
In the south-eastern corner of the excavation area, close to the current line of Halstead Road, a small rectilinear ditch system was revealed, from which a small medieval ceramic assemblage was recovered. It is probable that this network of ditches belonged to a system of small plots associated with road-side dwellings or cultivation. To the north of this, two broadly parallel boundaries were revealed, possibly belonging to an open field system on the periphery of the village during the medieval period.
The final phase of activity at the site comprised two boundary ditches probably associated with post-medieval field arrangements, the latter of which was present on the 1837 Fordham Parish Tithe Map. A small assemblage of assorted post-medieval finds was recovered from the two ditches.
Item Type:
Client Report
Uncontrolled Keywords:
Essex, essex, Colchester, colchester, Eight Ash Green, eight ash green, Excavation, excavation, archaeological excavation, Neolithic, neolithic, Late Neolithic, late neolithic, Medieval, medieval, Post-Medieval, post-medieval, Post Medieval, post medieval, Pottery, pottery, pot, ceramic, sherd, vessel, Neolithic pottery, neolithic pottery, Late Neolithic pottery, late neolithic pottery, Medieval pottery, medieval pottery, Post-Medieval pottery, post-medieval pottery, Post Medieval pottery, post medieval pottery, ditch, ditches, ditch system, rectilinear ditch system, medieval rectilinear ditch system, medieval field boundaries, agriculture, land use, farming, medieval plot boundaries, roadside dwelling, tithe map, post-medieval fields, clay pipe, CTP, ctp, CBM, cbm, ceramic building material, Ceramic Building Material, medieval pantile, pantile, post-medieval brick, 2510, report 2510, Report 2510, OAE report 2510
Subjects:
Geographical Areas > English Counties > Essex
Period > UK Periods > Neolithic 4000 - 2200 BC > Late Neolithic 2700 - 2200 BC
Period > UK Periods > Medieval 1066 - 1540 AD
Period > UK Periods > Neolithic 4000 - 2200 BC
Period > UK Periods > Post Medieval 1540 - 1901 AD
Divisions:
Oxford Archaeology East
Depositing User:

Hamilton

Date Deposited:
15 Dec 2021 08:59
Last Modified:
15 Dec 2021 08:59
URI:
http://eprints.oxfordarchaeology.com/id/eprint/6175
Actions (login required)