Blackbourn, Kathryn (2020) A Middle Bronze Age enclosure and post-medieval activity on land west of Brandon Road, Swaffham, Norfolk. [Client Report] (Unpublished)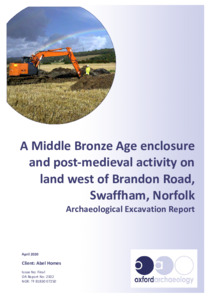 Preview
PDF




OAE_Report_2502_XNFBRS20_Final_LR.pdf


Available under License Creative Commons Attribution Share Alike.
Download (5MB) | Preview
Abstract
From 17th November to 11th December 2020 Oxford Archaeology East conducted an archaeological excavation at land west of Brandon Road, Swaffham, Norfolk (TF 8183 0725). Two areas were excavated within the development area, and features were recorded dating to the Middle Bronze Age and post-medieval periods.
Area 2 was located in the western part of the development area and revealed a Middle Bronze Age enclosure ditch with associated pits and post-holes. A small quantity of prehistoric pottery and worked flint was recovered from these features and a radiocarbon date on charcoal from the fill of the enclosure ditch yielded a date of 1503 to 1423 cal. BC. Area 1, in the eastern part of the site, revealed ditches, an area of quarry pitting and the remains of a probable hayrick, all dating to the post-medieval period. Very few finds were recovered from the features In Area 2, but the recovery of two shards of post-medieval glass from these features, combined with their location immediately to west of the Brandon Road, confirms a post-medieval date.
Prehistoric pottery spanning the Middle Bronze Age to Middle Iron Age period was recovered in small quantities alongside worked flint, post-medieval glass and a single fragment of animal bone. Some of these finds were recovered from the evaluation phase of work. Preservation of plants remains was poor with only three samples yielding sparse charred cereal grains.
The features identified at the site make a significant contribution to a growing understanding of the surrounding landscape during the Middle Bronze Age period, as well as providing evidence for post-medieval activity.
Item Type:
Client Report
Uncontrolled Keywords:
Norfolk, norfolk, Swaffham, swaffham, Excavation, excavation, archaeological excavation, Bronze Age, bronze age, Middle Bronze Age, middle bronze age, Post-Medieval, post-medieval, Post Medieval, post-medieval, Pottery, pottery, sherd, pot, ceramic, vessel, Bronze Age pottery, bronze age pottery, Middle Bronze Age pottery, middle bronze age pottery, Post-Medieval pottery, post-medieval pottery, Post Medieval pottery, post-medieval pottery, Prehistoric, prehistoric, Iron Age, iron age, Middle Iron Age, middle iron age, Prehistoric pottery, prehistoric pottery, Iron Age pottery, iron age pottery, Middle Iron Age pottery, middle iron age pottery, Hayrick, hayrick, post-medieval hayrick, quarry pit, pits, pit, extractive pit, Middle Bronze Age enclosure ditch, middle bronze age enclosure ditch, enclosure ditch, ditch, C14, radiocarbon dating, 2502, report 2502, Report 2502, OAE report 2502
Subjects:
Geographical Areas > English Counties > Norfolk
Period > UK Periods > Bronze Age 2500 - 700 BC
Period > UK Periods > Iron Age 800 BC - 43 AD
Period > UK Periods > Bronze Age 2500 - 700 BC > Middle Bronze Age 1600 - 1,000 BC
Period > UK Periods > Iron Age 800 BC - 43 AD > Middle Iron Age 400 - 100 BC
Period > UK Periods > Post Medieval 1540 - 1901 AD
Divisions:
Oxford Archaeology East
Depositing User:

Hamilton

Date Deposited:
14 Jan 2022 10:13
Last Modified:
14 Jan 2022 10:13
URI:
http://eprints.oxfordarchaeology.com/id/eprint/6186
Actions (login required)