Parkinson, Andrew (1992) Beckley, The Walled Garden, High Street. Project Report. Oxford Archaeological Unit Ltd. (Unpublished)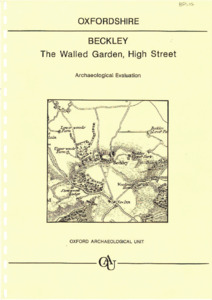 Preview
PDF




BPWG_92.pdfA.pdf


Download (1MB) | Preview
Abstract
On B June 1992 the Oxford Archaeological Unit carried out â small-scâle investigation at the Walled Garden, High Street, Beckley, Oxon (SP 56331124) The site is 0.067 hectares in area. The archaeological work was undertaken during the earlier stages of construction of a private dwelling. The walled garden is situated on an E-W slope, the modern ground 1evel at Trench 1 being 1.88 m below that of the high ground at the E end of the site.
The later deposits contain meciieval and post medieval pottery suggesting considerable mixing and reworking of the soil. The features mostly interpretdl as pits suggest domestic activity nearby. Although the pits contain pottery of a date range from the Saxo-Norman to 15th century it does
suggest occupation prior to and after the 1227 -1233 'Beckley Palace' occupation. Accurate dating of the features is problematic because of tlte high probability of
redeposited sherds.
Actions (login required)