Fellingham, Adam and Legge, Rachel and Bashford, Robin Hertford College Library, Oxford. [Client Report] (Unpublished)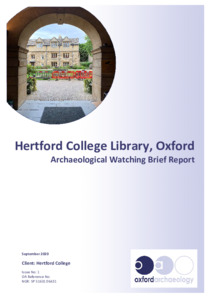 Preview
PDF




OXHECL20_WBReport.pdf


Download (1MB) | Preview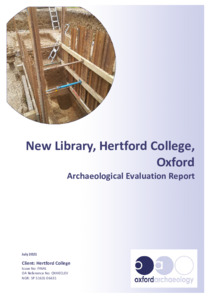 Preview
PDF




OXHECL20_Evaluation.pdf


Download (4MB) | Preview
Abstract
Phase 1 Watching brief
Oxford Archaeology (OA) was commissioned by CPC Project Services on behalf of
Hertford College to undertake an intermittent watching brief of six test pits,
excavated by Geotechnical & Environmental Associates, who also undertook a
borehole survey which OA was not present for. The six test pits and three
boreholes were broadly spread over the proposed development area to examine
details of foundations to the existing buildings and underlying deposits within
the Old Quadrangle at Hertford College Library.
The natural gravels were only encountered within the three boreholes at depths
between 3.50m (60.37m OD) and 4.10m (59.77m OD) below ground level (bgl)
and was not observed within any of the test pits. It is anticipated that the natural
gravel horizon within the site would be relatively consistent at 3.50m bgl
(60.37m OD). Meaning that any archaeological deposit encountered below this
depth would suggest the presence of archaeological features cutting the gravel
horizon and would be of some significance.
Recorded within the test pits were significant archaeological deposits and
features most likely dating from the 11th to the 19th centuries and these are
relatively well‐preserved. The two demolition deposits and demolished wall
recorded within site would be considered significant as these most likely relate
to the two phases of demolition and redevelopment of Hertford College during the 17th and 19th centuries.
Evaluation phase 2
Oxford Archaeology (OA) was commissioned by CPC Project Services LLP on
behalf of Hertford College to undertake an archaeological evaluation to inform
the Local Planning Authority in advance of the submission of a planning
application for a proposed new library at Hertford College, Oxford (NGR: SP
51631 06431).
The evaluation was undertaken over 15 days during March 2021 and consisted
of three archaeological evaluation trenches (Nos. 1, 2 and 3) that varied in size
from 2m long by 1.50m wide to 10.10m long by 4m wide.
Although restricted to areas of the site not covered by existing standing
buildings the distribution and size of the trenches have shown that possible
late Saxon, as well as extensive medieval and post‐medieval remains survive
within the site and have remained relatively undisturbed by later activity (Figs.
13 and 14).
Trenches 1 and 2 were targeted over an area previously investigated by
archaeological watching brief and GPR results where possible archaeological
features extended up to 4m below ground level. Within these trenches
archaeological deposits and features dating from the late Saxon to the
medieval periods were encountered between 2.32m bgl (61.55m OD) and
1.40m bgl (62.47m OD). Residual Saxon pottery recovered from later post‐
Conquest features suggests that pre‐Conquest occupation is either located
within or near to the site. Medieval features consisted of possible gravel
extraction pits in‐filled with demolition rubble, garden soils, a stone‐lined drain
(possibly used as a boundary between two academic halls) as well as gravel
surfaces associated with occupation deposits. These were overlain by late
medieval and early post‐medieval garden soils which were in turn overlain by
post‐medieval mortar surfaces with a single robbed east‐west foundation wall
possibly relating to a mason's yard (16th to 18th century). These were truncated
by later post‐medieval quarry and rubble‐filled pits.
Trench 3 was located within the southern passage and immediately adjacent
to the foundations of the existing Chapel. A stone‐lined cess pit was the only
feature encountered within the trench and was excavated to 3.20m bgl
(60.91m OD). Artefactual evidence suggests that this dates from the 16th and
17th centuries; however, the structural elements could be earlier in date as
there was evidence for clearing out of the fills.
Untruncated natural gravel was only encountered within Trench 1 at 61.40m
OD (2.47m bgl) and was overlain by a c0.15m thick layer of in‐situ brickearth.
Actions (login required)