Zant, John and Howard Davis, Christine Roman and Medieval Carlisle: The Northern Lanes, Excavations 1978-82: Volume 2. UNSPECIFIED. Oxford Archaeology Ltd, Lancaster.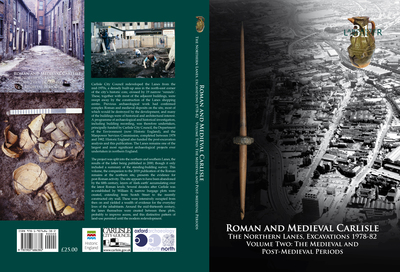 Preview
Image (JPEG) (Cover)




Lanes_Cover.jpg


Available under License Creative Commons Attribution Share Alike.
Download (7MB) | Preview
Abstract
This pages contains the appendices and supplementary data for Zant, J and Howard-Davis, C, 2022 Roman and Medieval Carlisle: The Northern Lanes, Excavations 1978-82 Volume two: The Medieval and Post-Medieval Period. This consists of the finds, ecofact, and scientific dating reports and illustrations, as well as an updated version of the Bibliography.
In the mid-1970s, Carlisle City Council finalised proposals for the redevelopment of the Lanes, a densely built-up area in the north-east corner of the city's historic core, which, at the time, was crossed by 19 narrow lanes or vennels. These were to be swept away, and the area cleared, for the construction of the Lanes shopping centre. Previous archaeological work had confirmed the existence of complex Roman and medieval deposits in this part of the city, most of which would be destroyed by the new development. A programme of archaeological and historical investigation was therefore developed, funded by Carlisle City Council, the Department of the Environment (now Historic England), the Manpower Services Commission, the Marc Fitch Fund, and the Society of Antiquaries of London, undertaken between 1978 and 1982. Historic England also provided substantial funding for post-excavation analysis and publication of the project's results. To this day, the Lanes retains its position as one of the largest and most significant urban archaeological projects ever undertaken in northern England.
The project was split into two parts in post-excavation, the northern and southern Lanes, the results of the latter being published in 2000. The current volume presents the evidence for the medieval and post-medieval periods, including the development of the lanes which remained in active use up until their demolition shortle after recording for this volume. Good preservation of waterlogged organic materials was a feature of the earlier levels, which yielded a wealth of environmental information and many artefacts of wood and leather. The Roman evidence from the northern Lanes is presented in a companion volume.
Actions (login required)