Slader, Ben and Thomasson, Joakim Collingridge Farm, Lambourn, Berkshire. [Client Report] (Unpublished)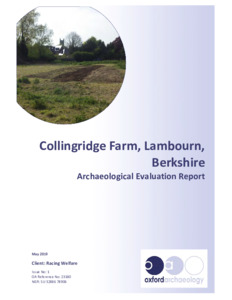 Preview
PDF




LACF19.pdf


Download (2MB) | Preview
Abstract
On the 13th to the 15th of May 2019, Oxford Archaeology undertook an
archaeological evaluation comprising six trenches on land forming a
proposed housing development at Collingridge Farm, Lambourn in Berkshire
(NGR: SU 32886 78906).
Archaeological remains were uncovered in five out of the six trenches.
Feature types such as postholes, pits and ditches were concentrated in the
higher northern parts of the site. Occasional pits were however also
detected in the central and southern area. Ditches, a pond and a former
stream channel dominated the findings in the rest of the site.
The finds material primarily consists of pottery and animal bones. An iron
nail, pieces of slag and flint fragments, a possible Roman coin and a fragment
of a human bone were also collected.
The remains in the northern higher area are likely to represent parts of a
multi‐phased settlement, which according to the retrieved pottery existed in
the Roman period (AD 150‐250) and the Anglo‐Saxon period to early Middle
Ages (850‐1200). The single find of a disarticulated human bone may indicate
the presence of a burial ground in the immediate vicinity of the site during
Roman times.
The archaeological remains that were uncovered in the lower central and
southern areas of the site are dominated by water resource management
constructions and a former stream channel that converged with the River
Lambourn, seemingly to facilitate water supply to the pond. The precise date
range of these has not been established, but they are likely to be of postmedieval
origin. According to historical maps the ditches were backfilled
sometime during the first half of the 19th century, and the pond sometime
before 1936.
The site demonstrates a high potential for significant archaeological remains
from the Roman period to the Middle Ages, which have high potential to
contribute with new knowledge relating to the research objectives presented
in the regional research frameworks.
Actions (login required)