Graham, Steven (2021) Land North of Sandpit Pond Farm, Longstanton Road, Over, Cambridgeshire. [Client Report] (Unpublished)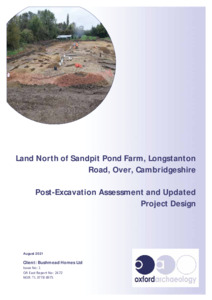 Preview
PDF




OAE_Report 2472_OVESPF20_LR.pdf


Available under License Creative Commons Attribution Share Alike.
Download (16MB) | Preview
Abstract
Between late July 2020 and early October 2020, Oxford Archaeology East (OA East) carried out archaeological excavations at land north of Sandpit Pond Farm, Longstanton Road, Over Cambridgeshire (TL 3778 6975). A total of 0.53ha was excavated in advance of residential development, targeting predominantly medieval remains revealed by a previous evaluation. Although archaeological features spanning the late prehistoric to modern periods were present across the area, the densest activity appears to have been concentrated at the northern end of the site close to Whine's Lane.
Despite a background scatter of earlier prehistoric flintwork, the earliest evidence for occupation on the site dates from the Late Bronze Age and comprises a boundary ditch and several clusters of deep pits, some of which may have been wells or watering holes. Associated with these was a notable assemble of Post Deverel-Rimbury Plainware pottery and evidence for bronze working including fragments of clay mould possibly for casting a bar or ingot.
Whilst there is some slight evidence of activity during the Late Saxon period, occupation at the site seems to have been fully-established in the 12th century. A series of boundary ditches and small enclosures probably delineating plots / properties or different areas of activity were laid out extending southwards from Whine's Lane, some of which were retained or recut during the high medieval and late medieval phases. These are likely to have been the 'backplots' for properties (located closer to the frontage), where evidence for quarrying, pit digging/rubbish disposal, agricultural and industrial activities was revealed. Iron working appears to have been undertaken, probably in the more easterly part of the site, represented by smithing hearth waste distributed within the backfills of numerous pits and ditches. The fairly substantial medieval pottery assemblage is one of the largest to have been excavated in Over and will be a useful comparator with the assemblage from Fen End, a similar contemporary site recently investigated on the north-eastern edge of the village.
During the 15th century activity at the site was in decline and by the later post-medieval period this area appears to have been largely given over to pasture with episodes of periodic flooding indicated by areas of alluvial deposits.
Item Type:
Client Report
Uncontrolled Keywords:
Cambridgeshire, cambridgeshire, Over, over, Excavation, excavation, archaeological excavation, PXA, pxa, Post-Excavation Assessment, Post-excavation Assessment, post-excavation assessment, UPD, ups, Updated Project Design, updated project design, Bronze Age, bronze age, Late Bronze Age, late bronze age, Early Medieval, early medieval, Saxon, saxon, Medieval, medieval, Post-Medieval, post-medieval, Post Medieval, post medieval, pottery, Pottery, pot,. ceramic, sherd, vessel, Bronze Age pottery, bronze age pottery, Late Bronze Age pottery, late bronze age pottery, Early Medieval pottery, early medieval pottery, Saxon pottery, saxon pottery, Medieval pottery, medieval pottery, Post Deverel-Rimbury Plainware, post deverel-rimbury plainware, watering hole, water hole, Bronze Age watering hole, bronze age watering hole, boundary ditch, ditch, ditches, boundary, boundaries, casting mould, bronze casting, plot, plots, back plots, medieval plots, medieval ditches, ironworking, smithing, hearth, hearths, enclosure, small enclosure, pasture, farming, agriculture, post-medieval pasture, 2472, report 2472, Report 2472, OAE report 2472
Subjects:
Geographical Areas > English Counties > Cambridgeshire
Period > UK Periods > Bronze Age 2500 - 700 BC
Period > UK Periods > Early Medieval 410 - 1066 AD
Period > UK Periods > Bronze Age 2500 - 700 BC > Late Bronze Age 1000 - 700 BC
Period > UK Periods > Medieval 1066 - 1540 AD
Period > UK Periods > Post Medieval 1540 - 1901 AD
Divisions:
Oxford Archaeology East
Depositing User:

Hamilton

Date Deposited:
23 Mar 2022 14:27
Last Modified:
23 Mar 2022 14:27
URI:
http://eprints.oxfordarchaeology.com/id/eprint/6220
Actions (login required)