Ladd, Stuart (2021) Sunnica West Site A and Site B. [Client Report] (Unpublished)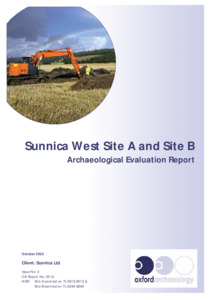 Preview
PDF




Report_2516_CAMSUN20_full_FINAL_LR.pdf


Available under License Creative Commons Attribution Share Alike.
Download (13MB) | Preview
Abstract
From 4th January to 26th March 2021, Oxford Archaeology East undertook an evaluation at the proposed Sunnica West solar farm site in fields across Snailwell, Chippenham and Kennet parishes in Cambridgeshire (Site A centred on TL 6619 6672 & Site B centred on TL 6394 6864). Fields were designated W01-W12, W14 and W15. Field W01 was evaluated in June 2021, some two months after the rest of the scheme to allow ground water levels to reduce to workable levels.
Field W01: Palaeochannels and alluvial deposits in the flood plain of the River Snail contained finds ranging from the Mesolithic to Roman period in date. Peat deposits here may date from the Roman period. A neonate skeleton was found within a possible Early Iron Age pit. Iron Age and Roman features were excavated, including pits and trackway ditches around the periphery of a settlement identified on geophysics. Limited finds from a hollow way disused in the 19th century are suggestive of a medieval origin for this feature.
Field W02: Large natural hollows contained occasional prehistoric material. Features extending from the Field W01 settlement, including a trackway shown on geophysics were not evaluated. An enclosure ditch which extended into W01 remained undated. Three rectangular pits filled with charcoal rich silt and burnt flints may represent remains of Anglo-Saxon settlement activity. These features were associated with a circular pit and a posthole.
Field W03: Enclosure ditches of probable Middle Iron Age and certainly Late Iron Age/Early Roman date were found which represent part of a previously evaluated settlement extending to the north-east around Foxburrow Plantation. Furthermore, the presence of Early Bronze Age and Late Bronze Age/Early Iron Age pottery is indicative of earlier activity in the vicinity.
Field W04: Settlement of probable Roman date was recorded to the north of this field by previous geophysical survey on former RAF Snailwell whose investigation extended into the northern part of Field W04 and interpreted a complex of features to be of possible Early Roman origin. The Ditch Way, a probable Roman to medieval road connecting Ashwell Street to Street Way with possible prehistoric origins, was traced by geophysical survey as two diverging trackways. The results of the evaluation allude to multiple phases of use (including the mid/later Roman period) and demonstrate the varying forms of this feature across its extent.
Field W05: The northern and eastern branches of Ditch Way were excavated, with some evidence for a bank and buried soil on its eastern branch. Three sides of an angular sub-square enclosure were identified adjacent to the A11, but this feature was not dated.
Field W06: The Ditch Way branches continued north-east, with other post-medieval and modern ditches identified.
Field W07: Although a barrow ring ditch was identified on geophysics, no archaeological features were encountered by trenches opened in its vicinity.
Field W08: Early Roman enclosure ditches, possibly associated with the northern branch of Ditch Way, and a large pit or pond were evaluated. Ring ditches and associated rectangular enclosures delineated by the geophysical survey in this field were not evaluated.
Field W09: Undated possible trackway ditches were found.
Field W10: Roman finds associated with nearby settlement were found in a large natural pond or hollow. The northern and eastern Ditch Way branches were encountered along with possible trackway or boundary ditches of post-medieval date not mapped by geophysics.
Field W11: Post-medieval land divisions not mapped by the geophysical survey and associated drainage features were excavated.
Field W12: A long (c. 1km) boundary or trackway ditch of possible prehistoric origin was excavated (also traced in W17 and excavated in W08).
Field W14: Undated ditches were excavated, as well as shallow natural hollows containing a few struck flints.
Field W15: An Early Neolithic pit was encountered which was the earliest feature excavated on the scheme. Undated (possibly prehistoric) ditches traced by the geophysical survey were also excavated.
Item Type:
Client Report
Uncontrolled Keywords:
Evaluation, evaluation, archaeological evaluation, Cambridgeshire, cambridgeshire, Snailwell, snailwell, Chippenham, chippenham, Kennet, kennet, Solar Farm, solar farm, Iron Age, iron age, trackway, track way, post hole, posthole, Bronze Age, bronze age, Early Bronze Age, early bronze age, Pottery, pottery, pot, ceramic, sherd, vessel, Bronze Age pottery, bronze age pottery, Early Bronze Age pottery, early bronze age pottery, Iron Age pottery, iron age pottery, Roman, roman, Roman pottery, roman pottery, Roman settlement, roman settlement, Iron Age settlement, iron age settlement, settlement, settlement activity, holloway, hollow way, roman trackway, iron age trackway, Medieval medieval, Medieval pottery, medieval pottery, medieval holloway, early medieval, Early Medieval, early medieval pottery, Early Medieval pottery, early medieval settlement, RAF Snailwell, Ditch Way, ditch way, medieval road, roman road, geophysics, geophysical survey, ring ditch, ditch, boundary, boundary ditch, post-medieval boundary ditches, 2516, report 2516, Report 2516, OAE report 2516
Subjects:
Geographical Areas > English Counties > Cambridgeshire
Period > UK Periods > Bronze Age 2500 - 700 BC
Period > UK Periods > Bronze Age 2500 - 700 BC > Early Bronze Age 2500 - 1500 BC
Period > UK Periods > Iron Age 800 BC - 43 AD > Early Iron Age 800 - 400 BC
Period > UK Periods > Early Medieval 410 - 1066 AD
Period > UK Periods > Iron Age 800 BC - 43 AD
Period > UK Periods > Bronze Age 2500 - 700 BC > Late Bronze Age 1000 - 700 BC
Period > UK Periods > Iron Age 800 BC - 43 AD > Late Iron Age 100 BC - 43 AD
Period > UK Periods > Medieval 1066 - 1540 AD
Period > UK Periods > Modern 1901 - present
Period > UK Periods > Post Medieval 1540 - 1901 AD
Period > UK Periods > Roman 43 - 410 AD
Divisions:
Oxford Archaeology East
Depositing User:

Hamilton

Date Deposited:
31 Mar 2022 10:11
Last Modified:
01 Nov 2022 13:24
URI:
http://eprints.oxfordarchaeology.com/id/eprint/6222
Actions (login required)