Cox, Nicholas and Lambert, Paddy (2018) Malyon's Farm, Hullbridge, Essex. [Client Report] (Unpublished)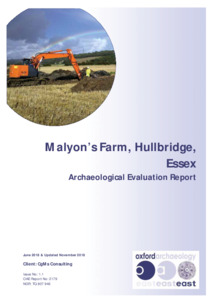 Preview
PDF




OAE_Report_2179_LR.pdf


Available under License Creative Commons Attribution Share Alike.
Download (3MB) | Preview
Abstract
During 6th-15th of December 2017, 15th-26th of January 2018 and 29th May – 1st June 2018 Oxford Archaeology East carried out a trial trench evaluation on land at Malyon's Farm, Hullbridge, Essex.
A total of forty-seven 50m trenches were excavated across seven fields to the north and south of Malyon's Farm. An area of Early Iron Age activity consisting of 69 pits, 11 postholes and 13 ditches or gullies was identified in the fields north of the farm on a ridge of high ground.
A smaller area of activity was identified in a field south-west of the farm. This included 14 ditches and gullies, and 15 pits. A small cremation was also located in this area.
A small assemblage of poorly preserved Early Iron Age pottery and fired clay was recovered along with a small assemblage of Romano-British pottery and tile.
After demolition works in the farmyard a further 6 trenches were excavated between 5-6th November 2018. One Medieval ditch was recorded.
Item Type:
Client Report
Uncontrolled Keywords:
Essex, essex, Hullbridge, hullbridge, Evaluation, evaluation, archaeological evaluation, Iron Age, iron age, Early Iron Age, early iron age, Roman, roman, Pottery, pottery, pot, ceramic, sherd, vessel, early iron age ditch, early iron age post hole, early iron age gully, plot boundary, boundary ditch early iron age boundary ditch, Iron Age pottery, iron age pottery, Early Iron Age pottery, early iron age pottery, Roman pottery, roman pottery, roman tile, agriculture, cremation, cremated remains, undated cremation, HSR, hsr, human remains, 2179, report 2179, Report 2179, OAE report 2179
Subjects:
Geographical Areas > English Counties > Essex
Period > UK Periods > Iron Age 800 BC - 43 AD > Early Iron Age 800 - 400 BC
Period > UK Periods > Iron Age 800 BC - 43 AD
Period > UK Periods > Roman 43 - 410 AD
Divisions:
Oxford Archaeology East
Depositing User:

Hamilton

Date Deposited:
08 Apr 2022 10:13
Last Modified:
08 Apr 2022 10:13
URI:
http://eprints.oxfordarchaeology.com/id/eprint/6226
Actions (login required)