Cox, Nicholas (2022) Prehistoric and Romano-British remains at Malyons Farm, Hullbridge, Essex. [Client Report] (Unpublished)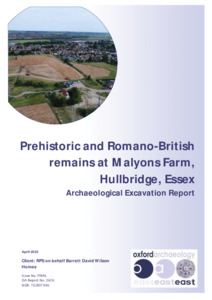 Preview
PDF




OAE_Report 2426_XEXHUL19_LR.pdf


Available under License Creative Commons Attribution Share Alike.
Download (6MB) | Preview
Abstract
Between 16th April and 18th July 2019 Oxford Archaeology East carried out an archaeological excavation on land around Malyons Farm, Hullbridge, Essex (TQ 807 946, Fig. 1). A total of 4.8ha in three separate areas (A-C) was machine stripped to investigate areas of interest identified in the earlier evaluation phase.
Early land-use was evident from residual Neolithic flints in later features and Early Bronze Age pottery in a small number of Early Iron Age features in Area B, while a single large pit of Late Bronze Age date was located in Area A. In the northern part of Area B, part of a ditched field system was also thought to be of Middle or Late Bronze Age origin.
The northernmost part of the site (Area B) revealed an area of unenclosed Early Iron Age settlement, including at least seven post-built structures. Other features included scattered pits and postholes and a large waterhole. The finds assemblage included pottery from the Late Bronze Age and Early Iron Age, along with animal bone, calcined bone, possible briquetage fragments (associated with salt making) and cylindrical fired clay weights of Late Bronze Age date. Waterlogged plant remains and pollen from the lower fills of the waterhole indicate pastoral farming and arable activity associated with the settlement, sitting within a broader landscape of hedgerows, and oak and lime woodlands.
In Area A, an area of Late Iron Age - Early Romano-British settlement was identified, consisting of a double rectilinear enclosure and other ditches, and a large number of pits, many possibly for clay extraction. Finds from these features included pottery – mostly Romano-British with a smaller component of Late Iron Age – along with animal bone, oyster shell and triangular Iron Age loomweights. Also in Area A were two small unurned Late Iron Age - Romano-British cremations, each containing less than 500g of calcined bone.
Close to the eastern edge of investigation, in Area C, was a single north to south aligned medieval ditch, originally identified in the evaluation. Moderate quantities of medieval pottery were recovered from the ditch and the overlying subsoil.
Several post-medieval to modern field boundary ditches aligned with the extant field system cut across the Iron Age settlement in Area B.
Item Type:
Client Report
Uncontrolled Keywords:
Excavation excavation, archaeological excavation, Essex, essex, Hullbridge, hullbridge, full report, Iron Age, iron age, Early Iron Age, early iron age, Late Iron Age, late iron age, Roman, roman, Bronze Age, bronze age, Late Bronze Age, late bronze age, Pottery, pottery, pot, ceramic, vessel, sherd, Iron Age pottery, iron age pottery, Early Iron Age pottery, early iron age pottery, Late Iron Age pottery, late iron age pottery, Roman pottery, roman pottery, Bronze Age pottery, bronze age pottery, Late Bronze Age pottery, late bronze age pottery, field system, late bronze age field system, Neolithic, neolithic, lithic, lithic remains, lithics, flint, worked flint, flints, Neolithic worked flint, neolithic worked flint, settlement, Early Iron Age, settlement, early iron age, settlement, structure, structures, post-built structure, post built structure, iron age structure, early iron age structure, waterhole watering hole, arable farming, enclosed settlement, Late Bronze Age weights, late bronze age weights, weight, weights, Late Iron Age loomweight, Late Iron Age settlement, late iron age settlement, extractive pit, clay pit, briquetage, cremation, unurned cremation, Late Iron Age-Early Roman, Late Iron Age-Early Roman cremation, medieval ditch, post-medieval field boundary ditch, animal remains, animal bone, animal bones, bones, bone, HSR, hsr, human remains, cremated human remains, early iron age animal remains, 2426, report 2426, Report 2426, OAE report 2426
Subjects:
Geographical Areas > English Counties > Essex
Period > UK Periods > Bronze Age 2500 - 700 BC
Period > UK Periods > Iron Age 800 BC - 43 AD > Early Iron Age 800 - 400 BC
Period > UK Periods > Iron Age 800 BC - 43 AD
Period > UK Periods > Bronze Age 2500 - 700 BC > Late Bronze Age 1000 - 700 BC
Period > UK Periods > Iron Age 800 BC - 43 AD > Late Iron Age 100 BC - 43 AD
Period > UK Periods > Medieval 1066 - 1540 AD
Period > UK Periods > Neolithic 4000 - 2200 BC
Period > UK Periods > Post Medieval 1540 - 1901 AD
Period > UK Periods > Roman 43 - 410 AD
Divisions:
Oxford Archaeology East
Depositing User:

Hamilton

Date Deposited:
08 Apr 2022 11:03
Last Modified:
08 Apr 2022 11:03
URI:
http://eprints.oxfordarchaeology.com/id/eprint/6227
Actions (login required)