Smith, Kirsty Aston Children's Home, Aston, Oxfordshire. [Client Report] (Unpublished)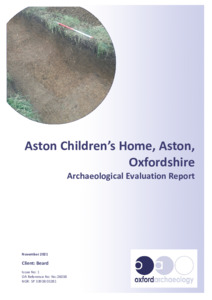 Preview
PDF




ASWFC21.pdf


Download (11MB) | Preview
Abstract
Oxford Archaeology was commissioned by Beard to undertake an
archaeological evaluation of the site of a proposed children's home development. The site is located to the south of Back Lane in the village of Aston. This work was undertaken to inform the planning authority in advance
of submission of a planning application.
Archaeological features were present in both trenches. Trench 1 contained two SW-NE aligned ditches and Trench 2 contained one SW-NE aligned ditch and two pits. The two ditches in Trench 1, and two pits in Trench 2 contained
pottery dating to the mid-11th century to the mid-13th century. Residual
Roman pottery was also recorded in several features, in all cases from contexts otherwise firmly dated to the medieval period.
During the preceding desk-based assessment, two SW-NE aligned raised linear features (possible boundary banks) were recorded within the site on the LiDAR
survey. One bank was suggested in the centre of the site, and another was centred along the northern edge of the site. The features were very slight and uncertain, and not visible on the ground. Extant earthworks have been observed further south-west along Back Lane. Trenches 1 and 2 were placed
to target the central SW-NE aligned bank, which was located within the area of proposed development. No evidence was recorded of the bank, but a large ditch was located in Trench 1 just north of the possible earthwork. It is possible that the bank and ditch may be related. A smaller ditch on the east side of the bank in Trench 1 may also be related.
All three ditches within the site were parallel to Back Lane. It is possible that they represent a settlement boundary or sub-division relating to the medieval
village of Aston. The two pits contained pottery, animal bone and plant remains and may have been rubbish pits associated with a medieval property.
The environmental remains from the ditches and pits were well preserved and indicate a mixed medieval rural economy including arable production of wheat
and legumes. Evidence for animal husbandry comprised cattle, sheep/goat, goose, pig and horse. The presence of goose bones, particularly ones which have been butchered, may be indicative of a high-status medieval settlement.
It is clear that the site contains previously unknown archaeological features dating from the medieval period and this contributes to understanding of the origins and development of Aston. The settlement evidence discovered,
together with associated artefacts and palaeoenvironmental evidence, is likely to be of moderate significance.
Actions (login required)