Clarke, Rachel and Collie, Tom (2022) Post-medieval Brick Kilns and Pottery Manufacture at Newfound Farm, Cringleford, Norfolk. [Client Report] (Unpublished)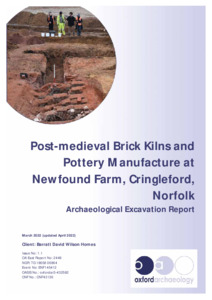 Preview
PDF




OAE_Report_2449_XNFNFC18_v1.1_final_LR.pdf


Available under License Creative Commons Attribution Share Alike.
Download (12MB) | Preview
Abstract
Between 29th October 2018 and 4th February 2019, Oxford Archaeology East (OA East) undertook a c.1.7ha excavation on land at Newfound Farm, Cringleford, Norfolk ahead of a proposed residential development. The locations of the two excavation areas were based on the results of previous stages of evaluation including geophysical survey, fieldwalking and trial trenching. Located on the fringes of Norwich, the site lies in the Yare valley which is rich in archaeological remains of all periods: earlier work had identified Newfound Farm as an area of post-medieval pottery production.
Further evidence for utilisation of the Yare valley during the later prehistoric period was provided by a scatter of pits (including numerous natural sinkholes) containing small quantities of Early Neolithic, Late Neolithic and Early Iron Age pottery, alongside worked and burnt flint.
However, the major development of the site began in the early post-medieval period, represented by five brick kilns of predominantly simple updraught design, alongside associated quarries and clay pits. These kilns are not only linked to the story of Newfound Farm and John Balleston (who purchased the land in the 16th century), but perhaps also to the history and 're-edification' of Cringleford village that was largely destroyed by a fire in the early 1570s.
After brickmaking declined here, it appears that pottery production became the dominant activity at the site during the 17th century. Balleston Newfound was so-called because of the high quality of potter's clay (fuller's earth) discovered there: a type of marl used in the production of tin-glazed earthenware in Delft, Holland. Although no in-situ remains of the pottery kilns were revealed by the excavation, a significant assemblage of pottery manufacturing waste, including wasters, saggars and other kiln furniture (nearly 200kg in total), was recovered; predominantly from a cluster of pits located close to Newfound Farm. When considered alongside the evidence from previous fieldwalking and geophysical surveys documented in the NHER, the site was clearly part of a much larger complex of kilns (and presumably workshops and drying sheds), clay pits and quarries known as Potters Close that stretched across many acres. By the mid-18th century, however, the site was totally disused and the land given over to farming.
The evidence for brick and pottery manufacture makes a notable addition to the study of these industries as few brick kilns have been excavated in Norfolk in particular, while only a handful of pottery production sites of this period have been identified in East Anglia so far. In addition to the redwares, slipwares and other wares produced at Cringleford, the identification of tin-glazed earthenware manufacture was wholly unexpected and provides a significant contribution to the study of post-medieval ceramics in the region.
Item Type:
Client Report
Uncontrolled Keywords:
Excavation, excavation, archaeological excavation, Norfolk, norfolk, Cringleford, cringleford, full report, Yare valley, Post-Medieval, Post Medieval, post-medieval, post medieval, Pottery, pottery, pot, ceramic, sherd, vessel, Post-Medieval pottery, Post Medieval pottery, post-medieval pottery, post medieval pottery, redware, slipware, post-medieval redware, post-medieval redware, sagger, saggers, kiln, kilns, pottery kiln, post-medieval pottery kiln, waster, wasters, brick, bricks, CBM, cbm, Ceramic Building Material, ceramic building material, brick kiln, post-medieval brick kiln, tin-glazed earthenware, post-medieval tin-glazed earthenware, fullers earth, pottery production, pottery production site, prehistoric pottery, flint, flints, worked flint, lithic, lithics, Early Neolithic, early neolithic, Late Neolithic, late neolithic, early iron age, Early Iron Age, Neolithic, neolithic, Early Neolithic pottery, early neolithic pottery, Late Neolithic pottery, late neolithic pottery, early iron age pottery, Early Iron Age pottery, Neolithic pottery, neolithic pottery, burnt flint, pit, pits, clay pit, extractive pit, post-medieval extractive pit, quarry, quarries, Potters Field, farming, agriculture, farmland, post-medieval agriculture, 2449, report 2449, Report 2449, OAE report 2449
Subjects:
Geographical Areas > English Counties > Norfolk
Period > UK Periods > Iron Age 800 BC - 43 AD > Early Iron Age 800 - 400 BC
Period > UK Periods > Neolithic 4000 - 2200 BC > Early Neolithic 4000 - 3000 BC
Period > UK Periods > Iron Age 800 BC - 43 AD
Period > UK Periods > Neolithic 4000 - 2200 BC > Late Neolithic 2700 - 2200 BC
Period > UK Periods > Neolithic 4000 - 2200 BC
Period > UK Periods > Post Medieval 1540 - 1901 AD
Divisions:
Oxford Archaeology East
Depositing User:

Hamilton

Date Deposited:
14 Apr 2022 10:18
Last Modified:
14 Apr 2022 10:18
URI:
http://eprints.oxfordarchaeology.com/id/eprint/6231
Actions (login required)