Bollen, Anne-Laure (2021) Land at North Uttlesford, Essex. [Client Report] (Unpublished)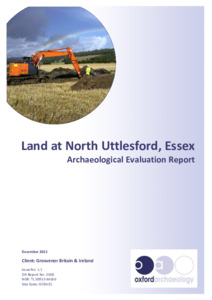 Preview
PDF




OAE_Report_2548_XEXNUV21_LR-compressed.pdf


Available under License Creative Commons Attribution Share Alike.
Download (15MB) | Preview
Abstract
Between the 11th and 22nd October 2021, Oxford Archaeology undertook targeted trial trenching at land north of Great Chesterford, within the North Uttlesford District of Essex. A total of 22 trial trenches were excavated across three areas, targeting geophysical anomalies and areas close to the former location of an Anglo-Saxon cemetery found during adjacent mitigation works.
The Area 1 trenches targeted a large double-ditched enclosure and ring ditch identified on the geophysical survey. Excavation of the double-ditched enclosure recovered prehistoric pottery and animal bone. The outer ditch was substantial in size, measuring up to 1.8m deep and 3m wide. The two ditches contained pottery dated to the Middle Bronze Age.
Trenches in Area 2 targeted a trackway and other field boundary ditches. No datable finds were recovered from these features. Trench 6 targeted a ring ditch, the excavation of which produced no datable artefacts. A trench was excavated at the southern limit of Area 2, across an extant field boundary ditch, which is thought to have been part of a medieval deer park pale, although no dateable deposits from this period were identified.
The Area 3 trenching assessed geophysical survey results and areas located close to the former location of Anglo-Saxon burials, which were excavated prior to construction of the Cam Valley Crematorium, directly west of the area. No burials were revealed in the trenches. A small number of field system ditches, pits and post holes were recorded. Some ditches were dated to the Roman period, whilst one pit was dated to the Anglo-Saxon period through a small assemblage of pottery. This pit has a form typical of an Anglo-Saxon sunken-featured building, although this is a tentative interpretation at this time. Some post holes found nearby could be of the same date but could just as likely be the result of later activity. A pit thought to be associated with the Early Bronze Age ring ditch in Area 1 contained disarticulated human skeletal remains. A radiocarbon date from the remains returned an Anglo-Saxon date of 587-653.
The layer of modern material recovered from Trench 12 suggest that the area located to the immediate north of the present crematorium has been infilled across the whole of the field which correlated with anomalies picked up by the geophysics and probably been used as a compound during the construction of the adjacent A11 carriageway.
Overall, the archaeological works have confirmed the presence of preserved archaeological remains within the areas targeted, although only to a low density on Areas 2 and 3, and the results corresponded with the geophysical survey undertaken by Headland Archaeology in 2021. Overall, the results can be considered typical for the region, having revealed evidence for land use from the prehistoric through to modern periods.
Item Type:
Client Report
Uncontrolled Keywords:
Essex, essex, Uttlesford, uttlesford, Great Chesterford, great chesterford, Evaluation, evaluation , archaeological evaluation, Bronze Age, bronze age, Middle Bronze Age, middle bronze age, Roman, roman, Early Medieval, early medieval, Post-Medieval, post-medieval, Post Medieval, post medieval, Pottery, pottery, pot, ceramic, sherd, vessel, Bronze Age pottery, bronze age pottery, Middle Bronze Age pottery, middle bronze age pottery, Roman pottery, roman pottery, Early Medieval pottery, early medieval pottery, Post-Medieval pottery, post-medieval pottery, Post Medieval pottery, post medieval pottery, ditch, ditched enclosure, double-ditched enclosure, middle bronze age double ditched enclosure, trackway, field boundary, field boundary ditch, field boundary ditches, field system, Roman field system, roman field system, human remains, HSR, hsr, disarticulated human remains, early medieval disarticulated human remains, 2548, report 2548, Report 2549, OAE report 2548, animal remains, animal bone, animal bones, faunal remains, bone, bones
Subjects:
Geographical Areas > English Counties > Essex
Period > UK Periods > Bronze Age 2500 - 700 BC
Period > UK Periods > Early Medieval 410 - 1066 AD
Period > UK Periods > Bronze Age 2500 - 700 BC > Middle Bronze Age 1600 - 1,000 BC
Period > UK Periods > Post Medieval 1540 - 1901 AD
Period > UK Periods > Roman 43 - 410 AD
Divisions:
Oxford Archaeology East
Depositing User:

Hamilton

Date Deposited:
03 May 2022 11:29
Last Modified:
03 May 2022 11:29
URI:
http://eprints.oxfordarchaeology.com/id/eprint/6252
Actions (login required)