Hickling, Steve (2006) Late Medieval/Early Post-Medieval Remains at The Grand, Great Whyte, Ramsey. [Client Report] (Unpublished)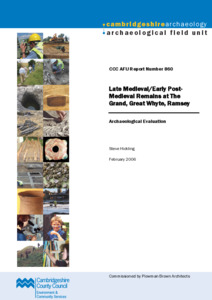 Preview
PDF




CCCAFU_report860.pdf


Available under License Creative Commons Attribution Share Alike.
Download (6MB) | Preview
Abstract
Between the 30th of January and the 1st of February 2006, the Cambridgeshire County Council Archaeological Field Unit conducted an archaeological evaluation on the site of The Grand cinema at the Great Whyte, Ramsey, in advance of the site's redevelopment for housing and a library.
Evidence of late medieval or early post-medieval occupation was found fronting onto the Great Whyte (Trench 1) in the form of masonry. Post-medieval dumping of material in Trench 2 was probably connected with land reclamation, while in Trench 3 evidence suggests that that area (Newtown Green) remained wet until the modern period.
It is likely that any archaeological evidence relating to medieval occupation will be confined to the western portion of the site, fronting onto the Great Whyte.
Item Type:
Client Report
Uncontrolled Keywords:
Cambridgeshire, cambridgeshire, Ramsey, ramsey, Evaluation, evaluation, archaeological evaluation, Medieval, medieval, Post-Medieval, post-medieval, Post Medieval, post medieval, pottery, Pottery, pot, ceramic, sherd, vessel, Medieval pottery, medieval pottery, CBM, cbm, Ceramic Building Material, ceramic building material, post-medieval tile, tile, Tile, tig, peg-tile, cinema, wall, post-medieval wall, structure, Victorian, Ramsey Library, The Grand, 860, report 860, Report 860, CCCAFU report 860
Subjects:
Geographical Areas > English Counties > Cambridgeshire
Period > UK Periods > Medieval 1066 - 1540 AD
Period > UK Periods > Post Medieval 1540 - 1901 AD
Depositing User:

Hamilton

Date Deposited:
05 May 2022 11:07
Last Modified:
05 May 2022 11:07
URI:
http://eprints.oxfordarchaeology.com/id/eprint/6258
Actions (login required)