Packard, Chris and Forde, Deirdre New Library and Academic Centre, St Anne's College, Oxford & 54-56 Woodstock Road, St Anne's College, Oxford. [Client Report] (Unpublished)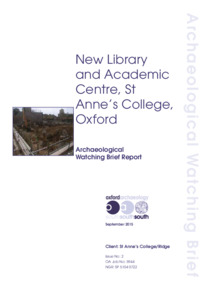 Preview
PDF




OXWD14_A_WB_report.pdf


Download (5MB) | Preview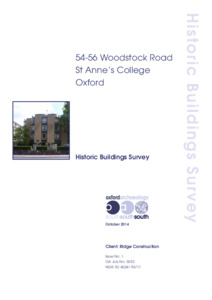 Preview
PDF




OXWD14_buildingsurvey.pdf


Download (33MB) | Preview
Abstract
Watching brief
Between 13 November 2014 and 7 April 2015 Oxford Archaeology (OA) undertook an
archaeological watching brief, comprising five trenches and an area of ground reduction on
behalf of St Anne's College, Woodstock Road, Oxford. Although no features datable prior to the
15th to 16th century were found, pottery and ceramic building material of medieval date and a
single sherd of Roman mortarium found in later deposits may suggest activity from these
periods in the vicinity.
Several pits containing late medieval/early post medieval pottery and other material were found
with mixed-in residual medieval material from relatively high status buildings. The majority of
the pits originally appear to have been dug as quarries before being backfilled with largely
sterile deposits with only an occasional dump of waste material. Two intercutting field boundary
ditches aligned NW/SE were from the same late medieval-early post medieval period.
Foundations and services pertaining to 19th century houses and the former kitchen block of St
Anne's College, built in 1959, had removed much of the archaeological evidence on the site.
Building Survey
Oxford Archaeology (OA) were commissioned by Ridge Construction on behalf of St. Anne's College, Oxford, to carry out a photographic survey of numbers 54 to 56
Woodstock Road prior to their demolition for the purposes of redevelopment.
Actions (login required)