Stafford, Elizabeth and Bedford, William Witney Cogges Link Rood Witney Oxfordshire. [Client Report] (Unpublished)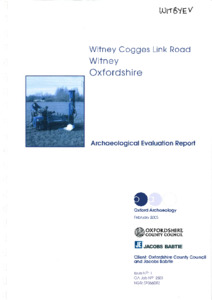 Preview
PDF




WITBY04.pdf


Download (4MB) | Preview
Abstract
In December 2004 Oxford Archaeologl (OA) was appointed to carry out the evaluation works along the line of the proposed Witney Cogges Link Road, west of Stanton Harcourt Road, Witney, Oxfordshire, by Oxfordshire County Council. The archaeological aspect of the project was under the management of Jacob Babtie and comprised the excavation of 16 trenches and 6 boreholes, distributed to give a
representative sample of the route corridor.
The route was divided into two zones. Zone 2 was situated on the higher ground of the gravel terrace and Zone 3 on the alluviated floodplain of the River Windrush. Poor ground conditions however due to high water tables on the floodplain necessitated the abandonment of a number of
trenches in Zone 3
The trenches identified limited evidence of activity comprising a series oflinear features concentrated at the edge of the gravel terrace and floodplain. Occasional pottery sherds recovered from these features
suggest the activity is of lron Age date although on earlier date cannot be ruled out for some of the undated features. Two furrows were also identified from which 13th century AD pottery was retrieved. The distribution of features and paucity of finds in general suggests a low level
of occupation indicative of activity associated with floodplain management and agricultural practices rather than settlement.
An additional component of the assessment was the production of a deposit model for the route. The model demonstratives substantial depths of undisturbed waterlogged Holocene allwial and peat deposits were
preserved within zone 3. Significant local variation in the sediment sequences and underlying gravel topograplry indicates the presence of a number of buried palaeochannels and topographic highs. The sediment sequences in zone 3 are largely undated, although the latest phase of
alluviqtion appeared to seal features of possible lron Age date at the edge
of the gravel temace. Available models for the development of the Upper
Thames floodplain suggest the onset of møjor øllwiation occurced some time in the late lron Age - Roman period. This suggests the underlying
deposits within Zone 3 may relate to earlier periods. Initially within the earlier periods, the Neolithic and perhaps the Bronze Age, the floodplain
surface away from channel locations may have been relatively dry although localised flooding may have occurred. It is likely the area
became increasingly wet as water tables rose, possibly during the middle
Iron Age, resulting in seasonal flooding and alluviation. The presence of organic remains associated with the palaeochannels provides some potential for radiocarb on dating
The range of the depositional environments represented at the site have
varying potential for the preservation organic remains. The waterlogged
conditions in zone 3 suggest the potential for preservation of
palaeoenvironmental materials is high. Samples have been submitted for
assessment, the results of which willform an addendum to this report.
Actions (login required)