Leith, S. (1993) Phase II Archaeological Assessment at Hinxton Hall. [Client Report] (Unpublished)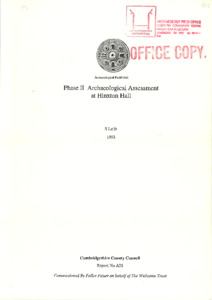 Preview
PDF




CCCAFU_reportA25.pdf


Available under License Creative Commons Attribution Share Alike.
Download (1MB) | Preview
Abstract
In November 1993, Cambridgeshire Archaeology undertook a second phase of archaeological assessment at Hinxton Hall (TL 496/448), restricted to the southern part of the Hall park. The work was part of a wider site investigations in the grounds of the Hall for a development proposal by Fuller Peiser on behalf of the Wellcome Trust.
The evaluation revealed prehistoric remains which strongly suggest the presence of a Neolithic settlement.
The early medieval settlement identified during the first phase of evaluation appears to be limited to a discrete area in the southern part of the site. Outside the apparent enclosure ditch surrounding the settlement, an area of activity was revealed which appears to be contemporary with the settlement. This area showed rubbish pits and ditches which produced Saxon and early medieval pot sherds.
An isolated burial was found to the east of the settlement area. The burial, of a woman over forty five years old, was found with an iron object, probably a knife, and appears to be Anglo-Saxon in date.
A hollow way was found which corresponds to the continuation of Hinxton High Street towards Great Chesterford. Other post-medieval activity on the site was represented by rubbish pits, and smelting or smithying.
Item Type:
Client Report
Uncontrolled Keywords:
Cambridgeshire, cambridgeshire, Hinxton, hinxton, Hixton Hall, hinxton hall, Evaluation evaluation, archaeological evaluation, Neolithic, neolithic, Early Medieval, early medieval, Post-Medieval, post-medieval, Post Medieval, post medieval, settlement, early medieval settlement, Neolithic settlement, neolithic settlement, burial, inhumation, HSR, hsr, human remains, early medieval burial, female burial, hollow way, holloway, post-medieval hollow way, A25, a25, report a25, Report a25, report A25, Report A25, CCCAFU report A25
Subjects:
Geographical Areas > English Counties > Cambridgeshire
Period > UK Periods > Early Medieval 410 - 1066 AD
Period > UK Periods > Neolithic 4000 - 2200 BC
Period > UK Periods > Post Medieval 1540 - 1901 AD
Depositing User:

Hamilton

Date Deposited:
16 May 2022 11:51
Last Modified:
16 May 2022 11:51
URI:
http://eprints.oxfordarchaeology.com/id/eprint/6271
Actions (login required)