Drummond-Murray, James (2006) Bowd Engineering Site, East Street, St Ives. [Client Report] (Unpublished)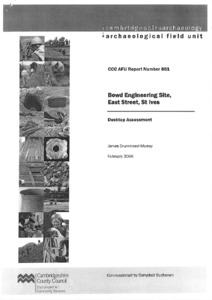 Preview
PDF




CCCAFU_report861.pdf


Available under License Creative Commons Attribution Share Alike.
Download (1MB) | Preview
Abstract
The present report was commissioned by Campbell Buchanan. Its aim is to provide information on the date, extent, distribution and character of the historical and archaeological resources of the Bowd Engineering site, East Street, St Ives. The outcomes of this study will inform a plan for the redevelopment of that site.
The town of St Ives lies to the south-east of Huntingdon, on the gravel terrace of the River Great Ouse. In relation to the town, the site lies within the historic medieval core, at TL 3132 7140 and at c. 6.50m OD.
This is no direct evidence for prehistoric or Roman occupation on the site, though the numerous stray finds from both periods in the vicinity means the possibility cannot be ruled out.
In the Saxon period, the site lay between two known areas of occupation, centred on All Saints Church to the west and the Priory to the east.
The site remains undeveloped in the first map of the town apart from the western frontage (Pettis 1728) and well into the post-medieval period. The East Street frontage was developed in the late 19th/early 20th century and subsequent development took place behind the frontage.
The current plans for the redevelopment are confined to the existing building footprints and truncation of archaeological deposits will be limited to any new below-ground foundations and associated service runs.
Item Type:
Client Report
Uncontrolled Keywords:
Cambridgeshire, cambridgeshire, St Ives, st ives, DBA, dba, Desk-Based Assessment, Desk-based Assessment, desk-based assessment, Post-Medieval, post-medieval, Post Medieval, post medieval, street front, street frontage, Modern, modern, 861, report 861, Report 861, CCCAFU report 861
Subjects:
Geographical Areas > English Counties > Cambridgeshire
Period > UK Periods > Post Medieval 1540 - 1901 AD
Depositing User:

Hamilton

Date Deposited:
16 May 2022 13:05
Last Modified:
16 May 2022 13:05
URI:
http://eprints.oxfordarchaeology.com/id/eprint/6273
Actions (login required)