Hayden, Chris and Score, Dave and Haines, Tim LATE BRONZE AGE FUNERARY PRACTICES AND OTHER ACTIVITY AT PINDEN QUARRY, DARTFORD. Other. Kent Archaeological Society. (Submitted)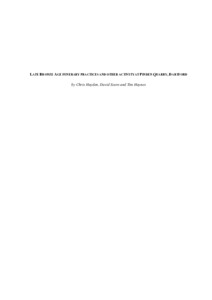 Preview
PDF




LOPINQ08_&11_publication_Report2.pdf


Download (14MB) | Preview
Abstract
Excavations at Pinden Quarry revealed a cluster of 31 small late Bronze Age pits, 16 of which contained
deposits of cremated human remains. These burials form part of an increasingly clearly evidenced pattern of
late Bronze Age burial in Kent which is generally characterised by small numbers of small deposits of
cremated remains in small pits which appear to have been either isolated features or to have been associated
with field systems. Analysis of the pits at Pinden Quarry suggests that whilst the area was used for activities
involving burnt flint, charcoal and charred plant remains throughout the late Bronze Age (c 1200 to 800 cal
BC), the cremated remains derive from just two brief episodes of activity. Funerary activity thus appears to
have been one, episodic aspect of a wider range of longer term activities, and the relatively large number of
deposits of cremated remains probably reflects in large part the accidental inclusion of cremated remains in
pits rather than deliberate burial. The deposits of cremated remains cannot be precisely related
chronologically to the ditches of a late Bronze Age field system, but overall, the activity related to the pit
group began before the field system was laid out, and continued afterwards. A comparison of the pits and
deposits at Pinden Quarry with those from other sites in Kent is presented. Overall, the results underline the
apparently rather casual way in which cremated human remains were deposited in the late Bronze Age
(compared to preceding periods), and thus raise the question of why the treatment of human remains had
changed so markedly.
Alongside the late Bronze Age evidence, the excavations revealed parts of a Roman field system and five
deneholes. Although the few finds from the deneholes indicate that they were post-medieval in date, the
excavation provides little evidence to clarify their function.
Actions (login required)