Mason, Neal (2020) Land North of Halstead Road, Eight Ash Green, Colchester. [Client Report] (Unpublished)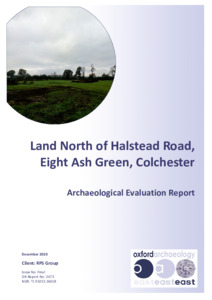 Preview
PDF




XEXEAG20_OAE_Report2473.pdf


Available under License Creative Commons Attribution Share Alike.
Download (8MB) | Preview
Abstract
Between the 2nd and 13th November 2020 Oxford Archaeology East (OA East) carried out a 38‐trench evaluation across three fields on land north of Halstead Road, Eight Ash Green, Colchester, Essex (TL 93255 26418). The site was located on the western side of the village, on a plateau overlooking the Colne Valley.
The archaeological remains uncovered fell into two periods; a very small amount of possible Late Neolithic activity was indicated by a pottery assemblage recovered from one of three post holes in the southern portion of the western field, and a network of ditches relating to medieval and post-medieval agricultural activity, some of which corresponded to boundaries recorded on the 1837 Fordham Parish Tithe map.
Of the features not recorded on the Tithe map, two parallel ditches may have belonged to a narrow trackway in the western field, and the extrapolation of several ditches also revealed in this field indicates a possible enclosure of indeterminate use.
Nearly all of the ditches uncovered by this evaluation produced medieval – post‐medieval pottery and/or CBM, at levels which would probably indicate scatters from manuring. Some of the later CBM, however, may have associations with farm buildings recorded on the Tithe map.
The environmental samples also produced results consistent with agricultural activity belonging to the medieval to post‐medieval periods.
Item Type:
Client Report
Uncontrolled Keywords:
Essex, essex, Eight Ash Green, eight ash green, Evaluation, evaluation, archaeological evaluation, Neolithic, neolithic, Late Neolithic, late neolithic, Medieval, medieval, Post-Medieval, post-medieval, post medieval, Pottery, pottery, pot, ceramic, sherd, vessel, Neolithic pottery, neolithic pottery, Late Neolithic pottery, late neolithic pottery, Medieval pottery, medieval pottery, Post-Medieval pottery, post-medieval pottery, post medieval pottery, posthole, post hole, Late Neolithic post hole, ditch, ditches, medieval ditch, post-medieval ditch, field boundary, boundary ditch, medieval farming, post-medieval farming, Tithe map, agriculture, trackway, undated trackway, CBM, cbm, ceramic building material, Ceramic, Building Material, medieval CBM, medieval tile, tile, brick, post-medieval CBM, 2473, report 2473, Report 2473, OAE report 2473
Subjects:
Geographical Areas > English Counties > Essex
Period > UK Periods > Neolithic 4000 - 2200 BC > Late Neolithic 2700 - 2200 BC
Period > UK Periods > Medieval 1066 - 1540 AD
Period > UK Periods > Neolithic 4000 - 2200 BC
Period > UK Periods > Post Medieval 1540 - 1901 AD
Divisions:
Oxford Archaeology East
Depositing User:

Hamilton

Date Deposited:
31 May 2022 08:23
Last Modified:
31 May 2022 08:23
URI:
http://eprints.oxfordarchaeology.com/id/eprint/6296
Actions (login required)