Zochowski, Alistair (2008) Lockerley to Marchwood Gas Pipeline, Hampshire. Project Report. Oxford Archaeology. (Unpublished)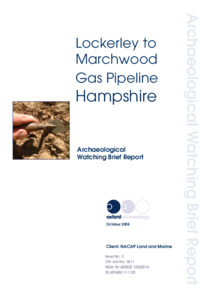 Preview
PDF




A2006.68phase4.pdf


Available under License Creative Commons Attribution Non-commercial.
Download (7MB) | Preview
Abstract
Between March 2007 and April 2008 Oxford Archaeology (OA) carried out an archaeological watching brief on the construction of a gas pipeline. The pipeline runs between an existing compressor station at Lockerley (NGR SU 302 255) in the borough of Test Valley, and Marchwood Industrial Park, Southampton (NGR SU 394 111) on the western shore of the River Test estuary, Hampshire. The work was carried out on behalf of NACAP Land and Marine.
Two Iron Age pits were revealed in Field 0.2 at the northern end of the pipeline, near Lockerley. Two Roman ditches were revealed in Field 6.20 and medieval or post-medieval field boundary ditches in Fields 6.8 and
6.9, near the village of Wellow. A pit was revealed in Field 11.12 and a pit and gully revealed in Field 12.7 at the southern end of the pipeline.
Post-medieval pottery was recovered from twenty of the fields along the route of the pipeline, and was probably deposited during manuring. In the post-medieval period it is likely that much of the route comprised pastoral and arable land.
Actions (login required)