Teague, Steve and Allen, Leigh and Byard, Anni and Cotter, John and Druce, Denise and Nicholson, Rebecca and Powell, Adrienne and Shaffrey, Ruth and Webb, Helen Mitre Inn, Turl Street, Oxford Excavation and Watching Brief Report. [Client Report] (Unpublished)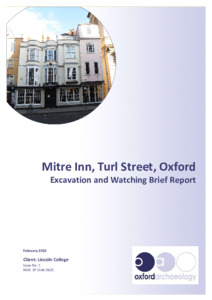 Preview
PDF




OXMITR19.pdf


Download (2MB) | Preview
Abstract
Oxford Archaeology was commissioned by Ridge and Partners on behalf of Lincoln College to
undertake a programme of archaeological works during construction and refurbishment work
at the Mitre Inn, Turl Street, Oxford. Targeted excavation was carried out at the site of a new
porters' lodge, and a watching brief was maintained during the digging of service trenches
within the Mitre and in the courtyard to the rear.
The evidence uncovered predominantly related to the medieval tenements that formerly
occupied the frontage of Turl Street rather than to the Mitre Inn itself, which in its present
form was built during the early 17th century. The earliest deposits were layers dated to the
mid- to late 11th century, which were cut by a large pit, possibly a cellar pit, that may have
been infilled by the end of the century. An overlying garden soil contained the remains of a
neonate that is likely to represent an interment of 12th-century or later date. The garden soil
was cut by a large stone-built 13th-century oven/hearth that was probably contained within
a building, of which only a robber trench survived – the large size of the oven suggests that
this may be the bakery that was mentioned in late 13th-century deeds. Traces of a later
hearth/oven suggest industrial activity. A subsequent cobbled surface located immediately
adjacent to the Turl Street frontage had been resurfaced on at least one occasion and was cut
by the foundation of a late medieval building on the street frontage, of which no other details
were revealed.
The only feature that could be attributed to the original medieval inn was a wall foundation
with relieving arch that had been reused to support the rear wall of the new structure when
it was rebuilt in the 1630s. The top of a vaulted cellar beneath No. 2 Turl Street was partly
exposed and is likely to be of similar date but was not part of the inn at this time, having been
part of a separate property until it was incorporated into the Mitre complex during the early
18th century. A stone foundation that now supports the rear wall of No. 4 Turl Street was not
securely dated but may also have been part of the range of medieval buildings associated
with Turl Street or could alternatively have been part of the 1630s rebuild.
Actions (login required)