Lewis, Timothy (2021) Hanwood Park, Land East of Kettering Phase 2. [Client Report] (Unpublished)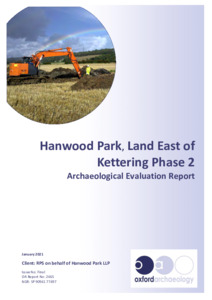 Preview
PDF




OAE_Report 2465_XNNHAN20_FINAL_LR.pdf


Available under License Creative Commons Attribution Share Alike.
Download (9MB) | Preview
Abstract
Between Monday 1st September and Friday 24th October of 2020 Oxford Archaeology East conducted an evaluation of land to the east of Kettering. The area evaluated covered c.123.17ha, with 207 of a proposed 211 50m trenches excavated across several arable fields. The trenches were targeted to investigate anomalies previously identified via geophysical survey conducted in 2011.
Seven discrete areas of archaeological activity were identified, relating to activity from the Iron Age through to Anglo-Saxon periods. Features within these areas of activity largely corresponded with anomalies identified by the geophysical survey.
Of those areas, four were predominantly Middle to Late Iron Age in date (though residual pottery of Earlier Iron Age date was also found), and were domestic in character, possibly representing individual farmsteads, dominated by large enclosure ditches.
Two of the sites were of early to middle Roman date, with pottery assemblages dominated by domestic forms such as jars made of locally produced coarseware fabrics with small quantities of imported wares. Additionally, a copper alloy bracelet terminal with snake's head decoration was recovered from a ditch.
The final, seventh, area of activity showed evidence of Middle Roman iron production and working, with finds including fragments of vitrified furnace lining, tap slag and other diagnostic elements of small-scale iron production. This area also produced evidence for early Anglo-Saxon occupation dating to the 5th to 7th centuries AD, including a possible a sunken-featured building.
Item Type:
Client Report
Uncontrolled Keywords:
Northamptonshire, northamptonshire, Cranford, cranford, Evaluation, evaluation, archaeological evaluation, Kettering, kettering, East Kettering, east kettering, Iron Age, iron age,Middle Iron Age, middle iron age, Late Iron Age, late iron age, Roman, roman, Early medieval early medieval, Pottery, pottery, pot, ceramic, sherd, vessel, Iron Age pottery, iron age pottery, Middle Iron Age pottery, middle iron age pottery, Late Iron Age pottery, late iron age pottery, Roman pottery, roman pottery, Early medieval pottery, early medieval pottery, geophysics, geophysical survey, farmstead, iron age farmstead, middle iron age farmstead, late iron age farmstead, field system, iron age field system, boundary ditch, ditch, iron age boundary ditch, coarseware, coarseware pottery, domestic, domestic pottery, domestic pottery forms, roman domestic pottery forms, MWD, mwd, metalworking debris, slag, Slag, Metalworking Debris, tap slag, furnace lining, roman slag, roman metalworking, ironworking, iron working, SFB, sfb, sunken featured building, sunken-featured building, grubenhaus, early medieval structure, worked flint, flint, flints, lithic, lithics, residual worked flint, quern, saddle quern, iron age saddle quern, roman quern, roamn gritstone quern, animal bone, animal bones, animal remains, bone, bones, 2465, report 2465, Report 2465, OAE report 2465
Subjects:
Geographical Areas > English Counties > Cambridgeshire
Period > UK Periods > Early Medieval 410 - 1066 AD
Period > UK Periods > Iron Age 800 BC - 43 AD
Period > UK Periods > Iron Age 800 BC - 43 AD > Late Iron Age 100 BC - 43 AD
Period > UK Periods > Iron Age 800 BC - 43 AD > Middle Iron Age 400 - 100 BC
Period > UK Periods > Roman 43 - 410 AD
Divisions:
Oxford Archaeology East
Depositing User:

Hamilton

Date Deposited:
23 Jun 2022 11:38
Last Modified:
23 Jun 2022 11:38
URI:
http://eprints.oxfordarchaeology.com/id/eprint/6314
Actions (login required)