Sinclair, Kelly (2022) Land South of Dereham Road, Mattishall, Norfolk. [Client Report] (Unpublished)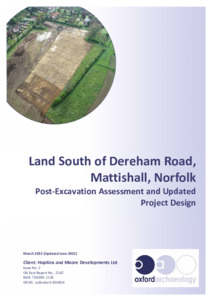 Preview
PDF




OAE_Report_2567_XNFDRMPXA_final_LR.pdf


Available under License Creative Commons Attribution Share Alike.
Download (9MB) | Preview
Abstract
Between 28th April and 23rd July 2021, Oxford Archaeology East (OA East) undertook an archaeological excavation at land south of Dereham Road, Mattishall (TG0395 1118). A total of 1.2ha was excavated in advance of residential development, targeting the results of previous geophysical and trial trenching surveys. The excavation revealed three main phases of activity spanning the medieval through to the post-medieval periods, with a focus being on the development of a common edge settlement established between the 12th–14th centuries.
In addition to the (reworked) boundary demarcating the southern edge of Mattishall's West Green common, the fieldwork uncovered evidence of numerous related plots, boundary ditches and other features, including an area of pits associated with a probable smithy or forge. A clear shift in the nature and intensity of activity was evident in the late medieval period (14th–15th centuries), while during the post-medieval period (16th–19th centuries) the focus moved to the east of the site, closer to Mattishall village, where the remains of a structure depicted on 19th century maps were revealed.
The excavations produced a fairly typical finds assemblage, including a moderately-sized group of medieval to post-medieval pottery, alongside lava quern stone, ceramic building material and (structural) iron objects. More unusual is the significant quantity of metalworking waste recovered from an area in the eastern part of the site. Botanical remains were sparse and poorly preserved, but appear consistent with comparable sites in the region, while the modestly-sized faunal assemblage suggests a predominantly pastoral economy based largely on cattle and sheep/goat.
Together, the stratigraphic, ecofactual and artefactual remains have good potential to contribute to wider research into the origins, development, economy and eventual decline of common-edge settlements in Norfolk and beyond.
Item Type:
Client Report
Uncontrolled Keywords:
Norfolk, norfolk, Mattishall, mattishall, excavation, Excavation, archaeological excavation, Medieval, medieval, Post-Medieval, post-medieval, Post Medieval, post medieval, pottery, Pottery, pot, ceramic, sherd, vessel, Medieval pottery, medieval pottery, Post-Medieval pottery, post-medieval pottery, Post Medieval pottery, post medieval pottery, quern, quern stone, quernstone, lava quernstone, lava quern stone, lava quern, animal remains, animal bone, animal bones, bone, bones, medieval animal remains, post-medieval animal remains, pastoral, pastoral farming, cattle, sheep, goat, ditch, plot, plots, boundary ditch, field system, medieval field system, post-medieval field system, smithy, forge, metalworking, structure, post-medieval structure, PXA, pxa, UPD, upd, Post-Excavation Assessment, Post-excavation Assessment, post-excavation assessment, Updated Project Design, updated project design, 2567, report 2567, Report 2567, OAE report 2567
Subjects:
Geographical Areas > English Counties > Norfolk
Period > UK Periods > Medieval 1066 - 1540 AD
Period > UK Periods > Post Medieval 1540 - 1901 AD
Divisions:
Oxford Archaeology East
Depositing User:

Hamilton

Date Deposited:
27 Jun 2022 13:25
Last Modified:
27 Jun 2022 13:25
URI:
http://eprints.oxfordarchaeology.com/id/eprint/6318
Actions (login required)