Katie, Sanderson (2022) Carleton Road, Penrith, Cumbria Archaeological Evaluation Report. [Client Report] (Unpublished)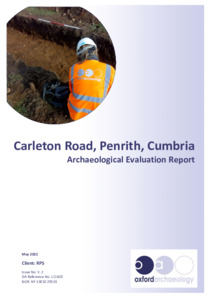 Preview
PDF




L11420_Report_V2.pdf


Download (9MB) | Preview
Abstract
In March 2022, Oxford Archaeology (OA) North was commissioned by RPS to undertake an archaeological trial trench evaluation of a proposed residential development site to the south of Carleton Road in Penrith, Cumbria. The work
is being undertaken to inform the local planning authority (Eden District Council) in advance of submission of a planning application. This evaluation, completed over three days, 9th – 11th March 2022, comprised the excavation
of nine trenches that were proposed by RPS. The locations of trenches were informed by a desk-based assessment produced by RPS which identified potential for prehistoric and Roman activity, and, by geophysical survey of the area undertaken by Magnitude Surveys.
The aim of the archaeological works was to fully record and investigate any remains, in order to inform the planning process prior to the development of the site, and to mitigate any negative impact this development may have upon
such remains. The results of the evaluation trenching were limited. Only two out of nine trenches excavated contained archaeological features. Both
trenches were targeted on the same ditch that traversed the site; processing of the environmental samples recovered from these features recovered remains of cereals which indicated a medieval or later date, confirmed by two sherds of ceramics, also recovered from the samples, which although heavily abraded appeared to be of post-medieval date. The remaining trenches were either blank or contained natural variations that appeared to relate to the geophysical anomalies observed.
Actions (login required)