Champness, Carl National Importance Programme: Lithic Sites Assessment 7046 & National Importance Programme Identifying and Mapping Sites of National Importance Within The East Sussex Wetlands. [Client Report] (Unpublished)

Preview
PDF




Lithic_Sites_Assessment.pdf


Download (6MB) | Preview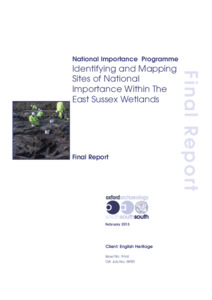 Preview
PDF




EN_NHPP_Report-and-figures_V2-lo2.pdf


Download (11MB) | Preview
Abstract
A desk-based study has been undertaken by OA North in response to a call for project proposals by English Heritage. The project (Project No 7046) takes lithic sites as the focus of study. The majority of these are considered to be 'sites without structure', and cannot, legally, be scheduled under the terms of the 1979 Ancient Monuments and Archaeological Areas Act. However, in accordance with the National Planning Policy Framework, if they can be demonstrated to be of National Importance, they are to be accorded equal significance with Scheduled Monuments and treated as if they have designated status. Specifically, the project has investigated how such sites can be identified, mapped and managed. Cumbria forms the principal study area, with a secondary comparator study undertaken for East Anglia.
The project, having collated information on the lithics of Cumbria and East Anglia, culminated with a very valuable seminar in September 2014, at which the issues were discussed. This was recorded and extensive notes were transcribed and distributed to the contributors for comment. This report arises directly from these events.
The report sets the scene by reference to the lithic resources within each study area, highlighting the quantitative and qualitative extent of the known resource and placing it within a regional landscape context. For each study, area attention is focused on particular lithic sites through the means of case studies. The case studies provide a forum for a discussion of the problems and issues encountered when defining a lithic site as being of national importance. These problems and issues are addressed in detail and a series of methodologies are proposed which could be applied to lithic resources in order to consider them applicable as sites of national importance. In order to test some of these methodologies, a series of recommendations has been made for further work on the sites discussed in the case studies. All of the project objectives were successfully met, and a way forward has been indicated
&
In 2014 English Heritage, as part of the National Heritage Protection Plan (NHPP),
commissioned a pilot study to examine mechanisms aimed at better identifying, mapping and
managing nationally important sites. East Sussex was selected as an appropriate study area,
being an example of an area facing new challenges following the discovery of early
prehistoric wetland edge sites of national importance but which currently may not be
scheduled under the terms of the 1979 Act and are termed 'sites without structures'. Oxford
Archaeology submitted a project design for the work in May 2014 and following its approval
by English Heritage work on the study was undertaken throughout 2014.
The aim of the project was to utilise existing information in order to better understand the
significance, character and extent of sites of national importance and their potential
vulnerability to future development and land-use change. A review of palaeoenvironmental
evidence was also undertaken to help inform this study. It was envisaged that one of the most
significant outcomes of the project would be to enhance the provision of planning advice
aimed at the management and preservation of wetland archaeological remains, although the
data could also serve as an important research tool.
The project undertakes a review of the current distribution and character of the 318
Scheduled Monuments located within the county and this is considered with regard to the
research priorities outlined in the draft South East Research Framework. The study also
considers and reviews the existing heritage protection measures and use of constraint/alert
heritage mapping used by East Sussex County Council and proposes how these notification
areas might change as a result of this project, providing the opportunity for increased
protection and consideration of significant wetland heritage assets on a landscape scale.
The project develops various themes and builds on previous work undertaken by OA and
others in East Sussex, discussing techniques for identifying, mapping, recording and
predicting sites of national importance, specifically relating to wetland sites and sequences
within East Sussex. The study advocates a landscape approach to protection rather than the
current protection of individual sites.
Many of these wetland sites were found to fall inside areas of existing wetland or former
marshes, with the vast majority either being protected as SSSI or under agri-environmental
schemes. With one or two notable exceptions, very few of these sites are currently threatened
by development pressure but are under increasing risk from changing land-use management
strategies, associated with flood risk measures and habitat enhancement schemes. Through
greater predictive mapping and understanding of heritage assets within wetland sequences it
is hoped to offer better alert heritage mapping to help share and inform land management
strategies, which will bring benefits to both the natural and historic environment.
The project findings suggest that scheduling of 'type' sites still have an important role to play
in the protection of sites of national importance. However, sites which are not currently
eligible for scheduling, such as many early prehistoric sites identified along wetland edges,
should be highlighted as nationally important within the HER. When threatened these sites
should be evaluated through the planning process, by pre-determination evaluation. A
judgement can than be made on the heritage asset's significance to determine if all or part of the asset is worthy of protection/preservation in situ as a site of national importance or whether loss and recording is acceptable.
Actions (login required)