Moan, Patrick (2018) Norwich Northern Distributor Road, Norfolk. [Client Report] (Unpublished)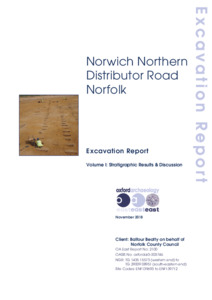 Preview
PDF




XNFNNR15_Grey_Lit_Report_2100_VOL1_LR.pdf


Available under License Creative Commons Attribution Share Alike.
Download (39MB) | Preview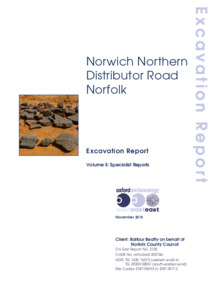 Preview
PDF




XNFNNR15_Grey_Lit_Report_2100_VOL2_LR.pdf


Available under License Creative Commons Attribution Share Alike.
Download (30MB) | Preview
Abstract
Between 4th January and 16th September 2016, Oxford Archaeology East (OA East) carried out archaeological excavations along the 20km-long route of the Norwich Northern Distributor Road, Norfolk (TG 14345 15573 to TG 29009 08951). In total, 19.72ha were excavated to the north and east of Norwich, comprising 19 areas that had been identified as requiring further investigation by Norfolk County Council Historic Environment Services.
Archaeological remains were revealed ranging in date from the Mesolithic period to the Second World War. A significant background scatter of residual flints was present across many of the sites, and prehistoric features were found in the majority of areas. The most significant of these was found at Bell Farm (Area 3), near Horsford, where a nationally significant Middle to Late Bronze Age settlement was excavated. This settlement consisted of at least 16 posthole structures (roundhouses) situated in and around a large three-sided ditched enclosure and an associated enclosure system formed from 15 posthole and pit alignments. This settlement is one of the largest of the period excavated within the county and makes an important contribution to current research into Bronze Age Norfolk.
The remaining areas revealed settlement, agricultural and industrial evidence ranging in date from the Iron Age through to the post-medieval periods, as well as a Second World War crash site. Evidence for iron production in the form of smelting furnaces was revealed, dating from the latest Iron Age/Early Roman period through to the early medieval period in the parishes of Rackheath, Beeston St Andrew and Spixworth. Associated with the iron working during the Anglo-Saxon period was charcoal production, evidenced by numerous charcoaling pits, or 'pit kilns' revealed within the parish of Rackheath. Medieval rural roadside settlement and craft activity was also investigated along the route, with roadside enclosures being uncovered at the western and south-eastern ends of the route respectively. Structures were rarely evident within these enclosures, with only small groups of postholes occasionally being revealed, although the nature of the sites suggest ribbon-development along the medieval lanes. Evidence for a possible medieval deer park was also revealed within what were the grounds of Rackheath Estate. The latest archaeological remains from the route related to the crash site of a Second World War American Mustang aeroplane, from an area previously part of Rackheath Airfield.
Finds assemblages from the excavations were variable in quantity and quality. A total of 15.5kg of prehistoric pottery was recovered, along with 0.8kg of Roman pottery and c.20kg of medieval and post-medieval pottery. Other finds included c.84kg of metalworking debris, 42.8kg of ceramic building material and fired clay, 10.5kg of worked stone, 2286 worked flints, two silver medieval coins and a post-medieval crotal bell along with a small group of other (iron) objects. One of the more unusual objects recovered from these works was a fragment of an Early Bronze Age greenstone battle-axe, petrological analysis of which identified a Cornish source for the stone.
Overall, a large and varied range of stratigraphical, artefactual and environmental data was recovered during the excavations, analysis of which has added significantly to current understanding of Bronze Age settlement, Romano-British and Anglo-Saxon industry and medieval rural settlement in the region.
Item Type:
Client Report
Uncontrolled Keywords:
Norfolk, norfolk, Norwich, norwich, Excavation, excavation, archaeological excavation, Mesolithic, mesolithic, Bronze Age, bronze age, Middle Bronze Age, middle bronze age, Late Bronze Age, late bronze age, Iron Age, iron age, Late Iron Age, late iron age, Roman, roman, Early medieval, early medieval, Medieval, medieval, Post-Medieval, post-medieval, Post Medieval, post medieval, Modern, modern, settlement, Settlement, Iron age settlement, Bronze Age settlement, Middle Bronze Age settlement, Late Bronze Age settlement, enclosure, ditch, ditched enclosure, Bronze Age enclosure, medieval enclosure, medieval enclosures Pottery, pottery, pot, ceramic, sherd, vessel, Bronze Age pottery, bronze age pottery, Middle Bronze Age pottery, middle bronze age pottery, Late Bronze Age pottery, late bronze age pottery, Iron Age pottery, iron age pottery, Late Iron Age pottery, late iron age pottery, Roman pottery, roman pottery, Medieval pottery, medieval pottery, Post-Medieval pottery, post-medieval pottery, Post Medieval pottery, post medieval pottery, charcoal pit, charcoal pits, deer park, WW2, World War 2, plane, crash, WW2 plane, agriculture, field system, 2100, report 2100, Report 2100, OAE report 2100
Subjects:
Geographical Areas > English Counties > Norfolk
Period > UK Periods > Bronze Age 2500 - 700 BC
Period > UK Periods > Early Medieval 410 - 1066 AD
Period > UK Periods > Iron Age 800 BC - 43 AD
Period > UK Periods > Bronze Age 2500 - 700 BC > Late Bronze Age 1000 - 700 BC
Period > UK Periods > Iron Age 800 BC - 43 AD > Late Iron Age 100 BC - 43 AD
Period > UK Periods > Medieval 1066 - 1540 AD
Period > UK Periods > Mesolithic 10,000 - 4,000 BC
Period > UK Periods > Bronze Age 2500 - 700 BC > Middle Bronze Age 1600 - 1,000 BC
Period > UK Periods > Modern 1901 - present
Period > UK Periods > Post Medieval 1540 - 1901 AD
Period > UK Periods > Roman 43 - 410 AD
Divisions:
Oxford Archaeology East
Depositing User:

Hamilton

Date Deposited:
04 Jul 2022 08:13
Last Modified:
04 Jul 2022 08:13
URI:
http://eprints.oxfordarchaeology.com/id/eprint/6353
Actions (login required)