Moan, Patrick (2017) Norwich Northern Distributor Road: PXA and UPD. [Client Report] (Unpublished)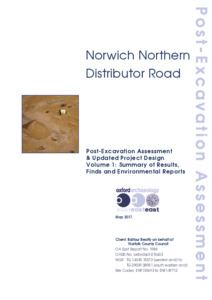 Preview
PDF




XNFNNR15_Vol_1_post_MM_edits_LR.pdf


Available under License Creative Commons Attribution Share Alike.
Download (2MB) | Preview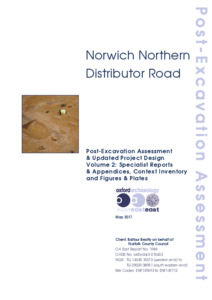 Preview
PDF




XNFNNR15_Vol_2_post_MM_edits_LR.pdf


Available under License Creative Commons Attribution Share Alike.
Download (10MB) | Preview
Abstract
Between 4th January and 16th September 2016, Oxford Archaeology East (OA East) carried out archaeological excavations along the 20km route of the Norwich Northern Distributor Road, Norfolk (TG 14345 15573 to TG 29009 08951). In total, 19.72 ha was stripped by machine under archaeological supervision across 20 discrete areas that were identified as requiring further investigation after evaluation.
Archaeological remains were uncovered ranging in date from the Early Neolithic to the Second World War. A significant background scatter of residual flints was recovered from the majority of sites, and prehistoric features occurred throughout the excavations. The most significant of these was found at Area 3, near Horsford, where a large Middle to Late Bronze Age settlement was excavated. This settlement consisted of a large three-sided enclosure, 15 post hole and pit alignments and a number of circular post hole structures.
A large portion of the remaining features ranged in date from the early medieval through to the high medieval period. Some early medieval industrial activity and high medieval rural roadside settlement and industrial activity was recorded along the route, particularly around Rackheath and Beeston where numerous charcoaling pits and a small number of smelting furnaces were excavated. High medieval roadside enclosures were found at the western end (Furze Lane) and south-eastern end (Smee Lane and Middle Road) of the route. Structures were rarely evident, with only small groups of post holes occasionally being recorded.
The latest archaeological remains from the site were from a crashed Second World War American Mustang airplane, recovered from near the village of Rackheath in an area previously part of Rackheath Airfield.
Finds assemblages from the excavations were variable in quantity and quality. A total of approximately 15.539kg of prehistoric pottery was recovered from the route, along with 0.835kg of Roman pottery and 20.09kg of medieval and post-medieval pottery. Other finds included 45kg of metalworking debris, 42.783kg of ceramic building material and fired clay, 10.5kg of worked stone, 2286 worked flints, two silver medieval coins and a post-medieval crotal bell.
Overall, a large and varied range of stratigraphical, artefactual and environmental data was recovered during excavation which has been assessed as having good potential for further analysis that will enable a number of research questions of regional importance to be addressed.
Item Type:
Client Report
Uncontrolled Keywords:
Norfolk, norfolk, Norwich, norwich, excavation, Excavation, archaeological excavation, PXA, pxa, UPD, upd, Post-Excavation Assessment, Post-excavation Assessment, post-excavation assessment, Updated Project Design, updated project design, road scheme, Bronze Age, bronze age, Middle Bronze Age, middle bronze age, Late Bronze Age, late bronze age, Medieval, medieval, settlement, Bronze Age settlement, field system, Bronze Age field system, enclosure, ditched enclosure, Bronze Age enclosure, pit alignment, medieval settlement, roadside settlement, medieval roadside settlement, charcoal, charcoal making, airfield, Racheath Airfield, Mustang, plane, crash, Pottery, pottery, pot, ceramic, sherd, vessel, Bronze Age pottery, bronze age pottery, Middle Bronze Age pottery, middle bronze age pottery, Late Bronze Age pottery, late bronze age pottery, Medieval pottery, medieval pottery, Roman pottery, roman pottery, Prehistoric pottery, prehistoric pottery, crotal bell, crottal bell, coin, coins, medieval coins, 1984, report 1984, Report 1984, OAE report 1984
Subjects:
Geographical Areas > English Counties > Norfolk
Period > UK Periods > Bronze Age 2500 - 700 BC
Period > UK Periods > Iron Age 800 BC - 43 AD
Period > UK Periods > Bronze Age 2500 - 700 BC > Late Bronze Age 1000 - 700 BC
Period > UK Periods > Medieval 1066 - 1540 AD
Period > UK Periods > Bronze Age 2500 - 700 BC > Middle Bronze Age 1600 - 1,000 BC
Period > UK Periods > Modern 1901 - present
Period > UK Periods > Roman 43 - 410 AD
Divisions:
Oxford Archaeology East
Depositing User:

Hamilton

Date Deposited:
05 Jul 2022 07:45
Last Modified:
05 Jul 2022 07:45
URI:
http://eprints.oxfordarchaeology.com/id/eprint/6364
Actions (login required)